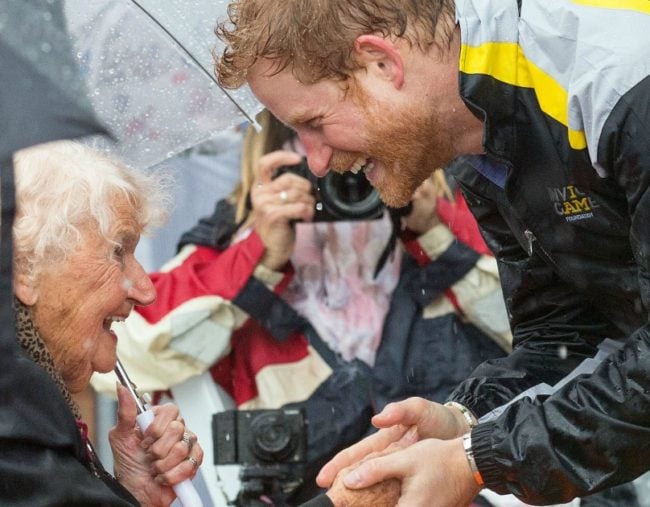 It was a case of deja vu for Daphne Dunne and Victoria McRae when the pair came face to face with Prince Harry for a second time on the shores of Sydney Harbour.
In the pouring rain on Wednesday, the elderly woman who embraced Harry in 2015 and the young female fan who famously stole a kiss from the prince during that trip were willing to get wet to do it all again.
The two fans were part of a 200-strong crowd who waited in the rain to catch a glimpse of Harry as he walked around Circular Quay after watching a sailing demonstration as part of the 2018 Invictus Games preparations.
The 97-year-old was at it again on Wednesday, but this time she was armed with a blanket and umbrella.
"He's marvellous, I've met him before and he's an absolute gem," Ms Dunne told AAP.
"I've been waiting a couple of hours, but it's worth it, even with this heavy rain."
And Ms Dunne was rewarded for her patience.
Not only did the British royal remember her but the 32-year-old appeared visibly excited as he gave the 97-year-old a hug and had a brief chat.
In a moment that melted the hearts of onlookers, Prince Harry even tucked Ms Dunne's blanket in and fixed up her umbrella before he continued on his walk.
While there were no kisses during this visit the prince did receive some phone numbers and photographs – including one from Ms McRae capturing the moment the then-21-year-old stole a kiss two years ago.
Ms McRae confessed to having a copy of the picture on her bedroom wall and she's hoping Harry might put his copy up at home in London too.
"I don't think it's likely but it's good to pass it on," she told AAP on Wednesday.
Ms McRae, who was wearing a plastic crown and holding a Union Jack flag, wasn't disappointed she didn't get a kiss this time but claimed she was "happy with what I got".
"We shook hands and we talked about our last rendezvous – it was great," she said.
Many fans screaming as Prince Harry made his way through the crowd with one heard yelling out: "Isn't this amazing that someone can bring this many people so much joy!"