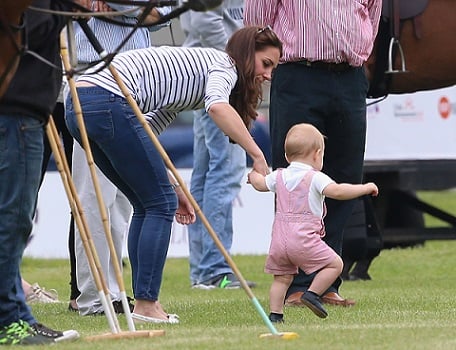 Kate had said her boy was walking, and here he is, trotting around the polo field like a pro.
The Duke and Duchess of Cambridge attended a charity polo match for the UK's Father's Day yesterday and Daddy's little boy might have hogged the spotlight.
Prince George decided that it was as a good a time as any to show to the world that his mum, Kate, wasn't just mum-bragging when she said he was starting to walk. Clutching his mum's hand tightly, George showed off his skill.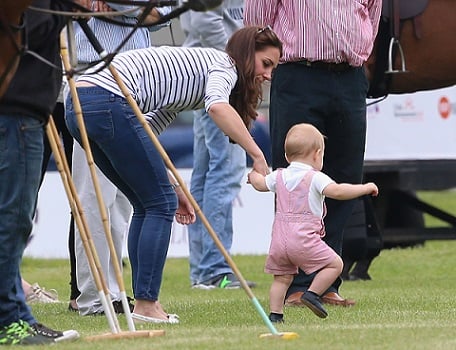 Prince William and Prince Harry were playing in the annual Jerudong Trophy match at Cirencester Park Polo Club in Gloucestershire while Kate and George watched on.
Prince George wore a very fitting whie polo T-shirt under red and white striped dungarees, while mum wore blue jeans and a blue and white striped long-sleeved T-shirt from Me + Em and beige and white deck shoes.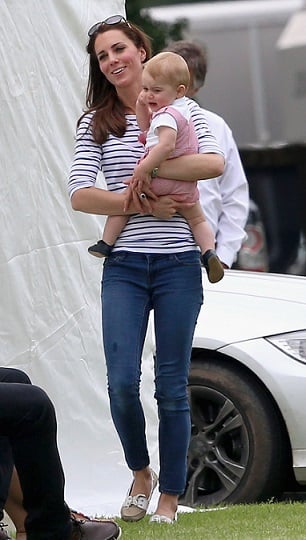 A recent poll confirmed that Prince William is more popular than his grandmother the Queen. And we suspect that little Prince George will soon be overtaking Dad in the popularity competition. 
For more Prince George photos from Twitter, CLICK THROUGH the gallery:
Want more Prince George? Try this:
This new portrait of Prince George is completely delicious…
Look who's walking. Prince George takes his first, royal steps.