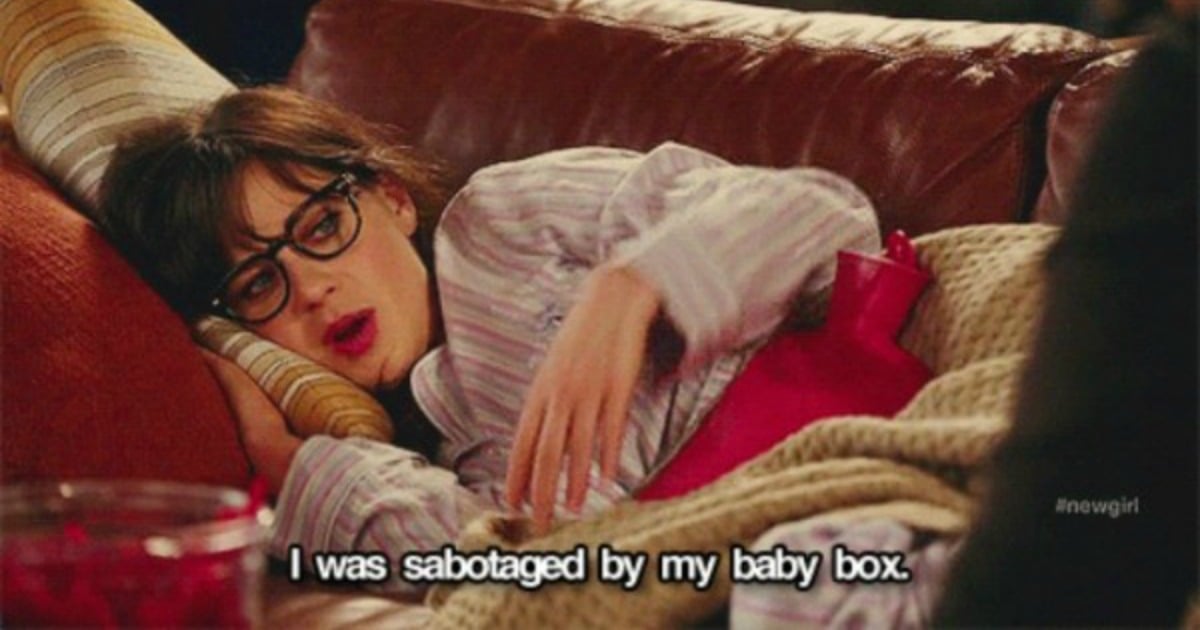 Image: New Girl, FOX.
Within minutes of the pain beginning, I was unable to stand. I suddenly had no choice but to sit down where I was – costume shopping in Target. My body furiously convulsed and forced me to throw up before I could find the strength to get to a bathroom.
To convince the insistent staff and customers that no, I didn't need an ambulance, I had to drag myself out of the store onto Bourke Street. There I continued to vomit before passing out on the curb. Yes, even as a germ-o-phobe, I was so desperate to curl up and close my eyes that I did so on the filthy streets of the CBD.
I knew that I didn't need medical assistance. I was all too used to my body surprising me whenever my time of the month was near. It usually followed a similar pattern – trembling, vomiting, then falling asleep to escape the pain. I could just never tell when it was coming.
Do you know the symptoms of endometriosis? (Post continues below.)

I was scared that these extreme symptoms meant I had one of those pelvic conditions that can jeopardise fertility. Other people get period pain too, but the extent that I experienced didn't seem to be 'normal'. An off-duty paramedic who saw me on the street even asked me, "Have you been checked for endometriosis or something like that? Are you sure you don't have anything?"
I saw an obstetrician who ruled out pelvic diseases. Fortunately, I didn't have a condition that would affect my fertility. The bad news: the pain I was experiencing can be more painful than other conditions.
Dysmenorrhea is the medical term for painful menstruation. Secondary dysmenorrhea refers to pain that results from a diagnosable condition, such as endometriosis. We don't hear about it as much, but the pain that the rest of us suffer from in the absence of any visible pelvic pathology is Primary Dysmenorrhea.