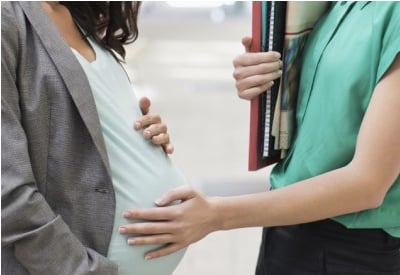 When I'm not pregnant, society tells me I'm supposed to be skinny and yet when I am pregnant, I apparently don't look pregnant enough…
"Are you sure you're even having twins?" the stranger asked.
She was trying to give me a compliment, I know. She was trying to say my pregnancy must be going well. She was trying to say I looked beautiful, happy even.
I'm sure she was.
Except, like countless other women I interacted with during my pregnancy, she made a conscious decision to focus on my size and commented about my bump instead.
Before I got pregnant, I heard tales about how wonderful it was, how random strangers would smile at you for no reason just because of your bump. One friend of mine even got a pile of free breadsticks after a worker saw her gazing at them.
I thought, "Babies and free breadsticks? I'm in!"
However, my pregnancy hasn't been about free breadsticks or about strangers smiling at me. In fact, when I see someone coming to ask me about my bump, I think to myself: "Am I going to lie and say I'm having a boy or am I going to admit the whole twin thing outright?"
It's become a game, you see, because every time I reveal I'm pregnant with twins, some stranger in their infinite wisdom thinks I
am the wrong size.
There hasn't been one stranger who has simply said, "You look beautiful," the only words any pregnant woman wants to hear.
Twins & Size
If you haven't known anyone personally who has carried twins, then you might not know the size of the babies in relation to each other is extremely important. Every time a twin mum gets an ultrasound (and we get double to triple the number of ultrasounds as single pregnancies), doctors measure the size of each baby and the size of the babies in relation to each other.