Most mums-to-be keep working well into their pregnancies. So why should sex work be any different?
That's the argument of one US sex worker who has been very vocal about continuing to work while pregnant.
Summer Sebastian, a 30-year-old legal prostitute, is three months pregnant and says she wants to keep working "right up to the day I pop".
Listen: Hello Bump's resident obstetrician explains why you can safely have sex while pregnant.

"I want to make a statement that supports the right of a woman to choose… to work as a prostitute while pregnant," Sebastian writes in a blog post on her employer's website.
The mum-to-be, who works at Moonlite Bunny Ranch in Carson City, Nevada, says she did not plan this pregnancy with her 70-year-old boyfriend, but was "pleased to have the opportunity to expand my already amazing family".
Sebastian is working to support herself while undertaking a master's degree in forensic pathology and says she wasn't about to let the pregnancy stop her from earning a living.
"I have less than four years left to accomplish my master's degree in forensic pathology; in successfully becoming a medical examiner," she says.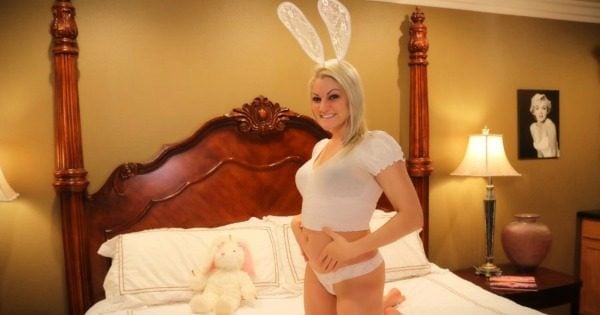 "I've never been one to let myself be intimidated by what others thought.
"It actually never occurred to me that I would stop working at the Bunny Ranch while I was pregnant."
She says that after doing some research she discovered there were no risks to the baby during sex as part of a normal pregnancy.
Rather than hinder her work, in fact, the woman says it is making it more enjoyable - and could be good for business.
"I am lovin' it even more now that I have all of these hormones pumping!" she said.
"I know being with a pregnant girl sexually is a HUGE sex fetish for a lot of people, and I sure hope to accommodate you over the next six months!"
Sebastian says she will continue to blog about her experiences working while pregnant.