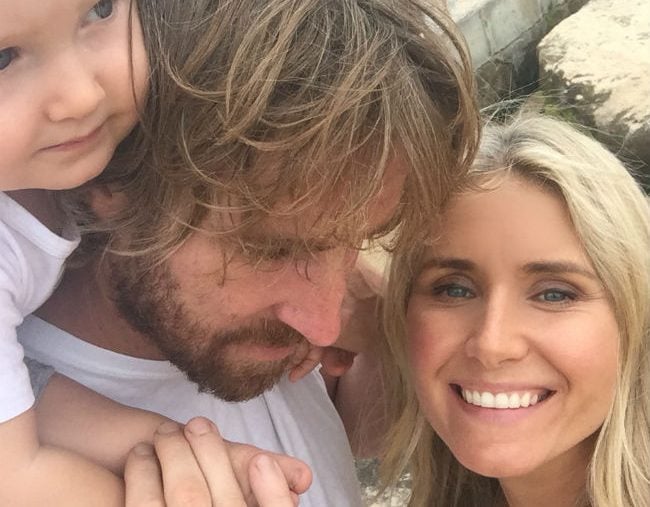 This may surprise you. One in five women will need blood or blood-related products throughout birth or pregnancy.
This is the alarming statistic at the heart of a new campaign from the Australian Red Cross Blood Service. As a mother myself, I was shocked to learn that the number was so high. But, the message behind She Gives Birth, You Give Blood is that we can do something about it.
Magdalena Roze, journalist, author and presenter, is the ambassador for the campaign, which encourages partners, families and friends of pregnant women to donate blood to assist with pregnancy conditions.
I remember so clearly how helpless my husband felt during my pregnancy, wanting to be able to help in some way. Roze, a mum of one and currently pregnant with her second child, agrees.
"The pregnancy experience can be quite isolating and confusing for a lot of partners as they can't know what a woman is going through," Roze tells Mamamia.
"While they want to do something, they can feel quite helpless. While pregnancy is the most magical, surreal and beautiful thing, they also see us suffering through nausea, discomfort, sleeplessness, anxiety, hormonal imbalances…the list goes on!"
According to the most recent ABS data, there were 311,104 births in 2016. Out of that total, 17 percent – or 52,877 women – received Anti-D injections. In addition, 1.7 percent of these women received transfusions during birth, equating to 5288 women.
With the number at one in five, there's every chance that you, a partner or friend needed blood during pregnancy. It's far more common than you may think.
And, often there's no way of knowing when it will be needed. For as much as a woman and her partner can prepare and read, there's no way of anticipating each step of the process.
As Roze says, "It's about surrendering to whatever your journey may be. I have friends who have had amazing home births and others with war stories, thankfully all with happy, healthy babies. But I know my mum and some of my friends needed blood during birth."
Roze chose to become an ambassador for the program because it's a cause close to her heart.
"Blood loss is the leading cause of pregnancy-related death, so I want to do what I can to help raise awareness around this, and the fact that a lot of people can help," Roze adds.