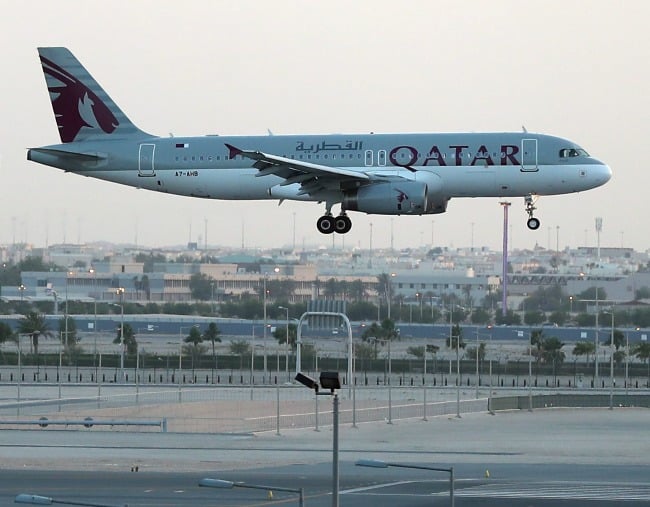 A Qatar Airways flight was forced to make an unscheduled landing on Sunday, after an 'intoxicated' passenger reportedly discovered her husband's infidelity part-way through the journey.
According to The Times of India, the Iranian national had caused a major disruption aboard the Doha-Bali flight, prompting the pilot to divert the plane to the east Indian city of Chennai.
The woman had reportedly used her sleeping husband's finger to unlock his mobile phone, where she allegedly discovered material that suggested he'd been unfaithful. During the ensuing commotion, she clashed with her husband and crew members who attempted to subdue her, the outlet reported.
Upon landing at Chennai, the woman, her husband and their child were offloaded and placed on a flight back to Doha, allowing the original flight to continue.
India's Central Industrial Security Force confirmed to The Times that an incident had occurred aboard the flight.
"On November 5, at about 10 am, Qatar Airways flight QR-962 (Doha-Bali) was diverted to Chennai," a spokesperson told the publication. "A lady along with her husband and a child, all Iranian nationals, were offloaded by Qatar Airline as the lady passenger (who was intoxicated) misbehaved with crew members inflight.
"They were sent to Kuala Lumpur by Batik Air flight 6019 for further travel to Doha."
What women are talking about this week. (Post continues below.)

The incident follows the grounding of a Jet Airways flight between Mumbai-Delhi last month, after the partner of an airline employee placed a fake bomb threat in one of the aeroplane's toilets.
Ahmedabad Joint Commissioner of Police, J K Bhatt, told local media, "The accused had planted the note with an intention to close down Jet Airways so that his girlfriend working in the Delhi-based office of the airline would leave her job and come to stay with him in Mumbai."
The man is currently under arrest according to India's Anti-Hijacking Act, The New Indian Express reports.