Pimples are like old acquaintances from high school.
You think you've got rid them once you're past your teens then BAM! They pop up at the most inconvenient times as an adult.
Fortunately, there's a very good solution for those pesky visitors (pimples, not the school friends, I'm afraid.)
Pimple patches.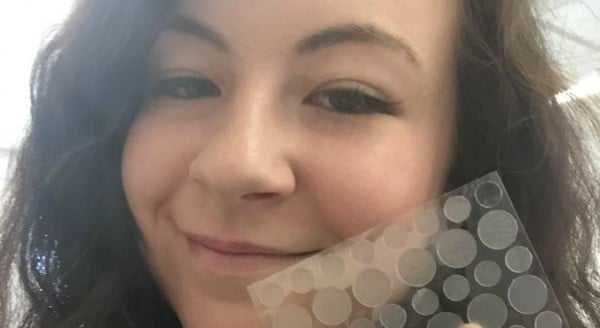 They're the budget friendly miracle workers you need to add to your skincare regimen immediately. And the gunk that comes off at the end? SO satisfying.
They've been around for a few years now, but beauty editors are singing their praises of late - and for good reason.
Looking a little like cold sore patches, pimple patches are basically mini hydrocolloid bandages. Essentially, they keep water and everything else out and absorb the wound (or pimple, in this case) fluid.
The patches couldn't be more foolproof to use. Simply put over your pimple (usually at night), snooze away and when you wake up enjoy the white gunk that has been sucked out of your pimple and held onto the patch.
Seriously, LOOK.