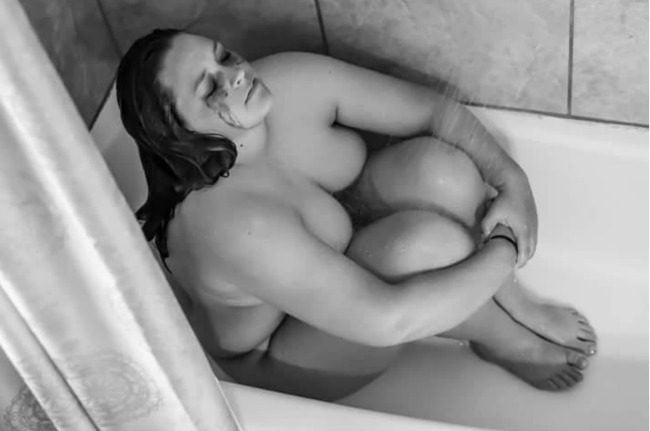 Brittany Latham is a photographer in Mobile, Alabama, but a photo she posted about three months ago has touched hundreds of thousands of people all over the world. It's because the now viral picture is one of the most honest, raw, and thus relatable visuals many women will ever see.
The simple black and white photo depicts a woman (Latham's friend) sitting on the floor and hugging herself in the shower, her mascara running as she cries. Immediately one can see that it represents the grief and sadness that all women have felt at one stage. But what makes the post even more remarkable is Latham's beautifully penned caption.
"For the woman whose husband makes an 'extra stop' after work every evening," she writes.
"For the woman who is mourning the loss of a pregnancy that nobody else knew about…For the woman that lives with quiet anxiety because nobody understands what you could possibly be stressed out about…For the woman that gives to her family all day everyday and just needs a break."
Latham ends her post with a heartfelt message for all women:
"For every single woman that cries in the shower so that nobody else can see. Because if you aren't strong, nobody is. Just because the water washes your tears doesn't mean that you don't cry. I am you. I see you. I am with you, I cry with you."
The 30-year-old, single mum of three spoke to Mamamia about the photo, and what she wrote to accompany it.
"The model is actually my close friend, and when we did that we had no idea how far it would reach," Latham explains.
"We have a had a good laugh about her nakedness being shared all over the world but we are glad to see it touch so many women."
Latham says that her own loss inspired the idea behind the photo and the words.
"I wrote the words first the same week that I lost a baby to miscarriage. I was honestly in a very sad place. I knew that my friend had also recently lost a pregnancy so when I decided that I needed an image to go with the writing.
"I realised that I did not have one single girlfriend that had never had a good cry in the shower. My entire thought process was that when I was going through a pregnancy loss, I still had to be strong for my other three children. I thought to myself, 'What are things that we all handle every single day as women without missing a beat for the sake of other people?'
"And so after talking with the women in my life and pulling from my own experiences I wanted something that most every women could find herself in if not more than one."
That's a goal that Latham has definitely achieved. Her emotional post has struck a universal chord; within days of her post, it went viral on Facebook and has attracted more than 400,000 reactions and shares. The responses in the comments range from women sharing their own experiences, to them feeling inspired by the truthful words.