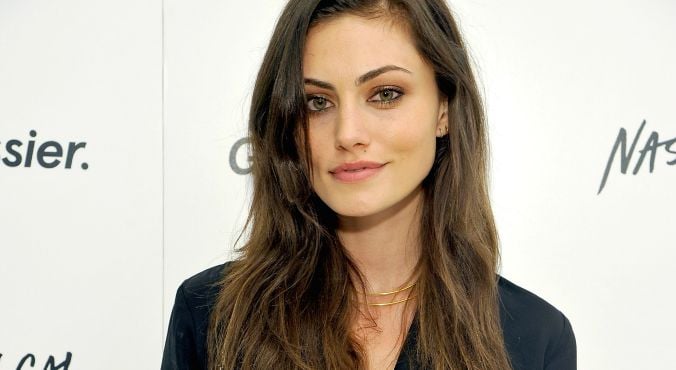 Image: Getty.
She may have established herself as a name in Hollywood, but it seems like Phoebe Tonkin's days in Aussie favourite H20: Just Add Water aren't far from her mind.
The 26 year old, who played mermaid Cleo Sertori in the hit children's series, has posted a picture of her latest hair change on Instagram.
RELATED: The beautiful reason Caitlin Stasey posed naked on the internet
And it appears that a certain aquatic Disney Princess has been the inspiration.
"Look at this stuff, isn't it neat," she captioned the photo, quoting lyrics from classic The Little Mermaid song Part of Your World.
While she hasn't gone the full vibrant red that Ariel has, Tonkin's usual dark brown locks have been replaced by a beautiful reddy-brown shade - making it literally "mermaid hair".
It's not clear whether the change is for work or pleasure, but from the looks of things, The Originals actress seems to be rather pleased with it. Not to be outdone in the hair stakes, Amanda Seyfriend has - gasp - given up her long hair. (Post continues after gallery.)
Phoebe Tonkin on Instagram
Amanda Seyfried
The 29 year old actress has chopped off a significant amount of her long hair to a just-past-shoulder-length new style. But that's not all.
While the cut itself looks great, what Seyfried has done with the leftover hair is even better - choosing to donate it to Locks for Love, a non-for-profit organisation that provides hairpieces to financially disadvantaged children under the age of 21 who are suffering from long-term medical hair loss due to a range of conditions.
RELATED: One in a hundred of you will have this condition and hide it
The actress's adorable dog Finn was around to helping hand too.
If you're considering a significant chop, donating your unwanted hair to charity is a great option to think about.
Ruby Rose
After causing a stir by bringing back the bowl cut earlier this year, Ruby Rose's hair has been in a pretty consistent, jet black undercut for the past few months.
But ahead of her return to music, the Orange Is The New Black star has put in what looks like ice blonde highlights.
Sharing the image on Instagram from Venice, Rose captioned the photo, "Venice you give me some kind of feelings."