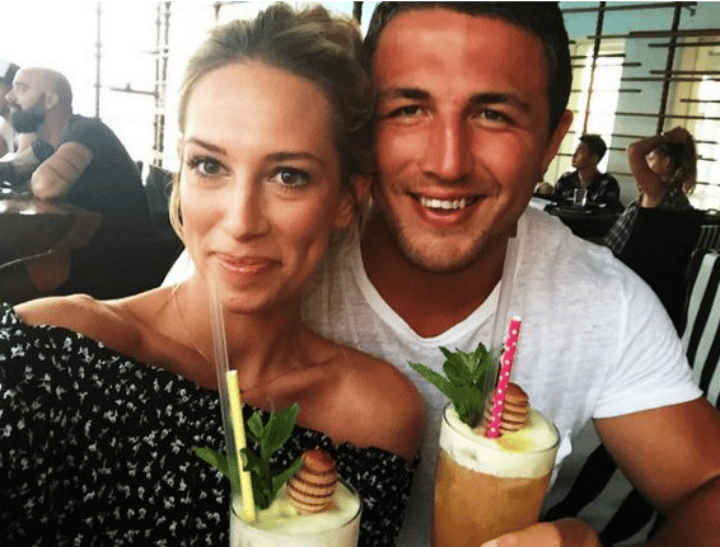 Phoebe Burgess has written for news.com.au about the tip that changed her life, and got her through one of her toughest moments. Only one week ago, Phoebe's husband Sam was stretchered off the football field in a neck brace, while friends, family, team mates and fans feared the worst. It's only by expressing gratitude, Phoebe says, that she could remain positive in light of such adversity.
While Phoebe says "the image of Sam in a neck brace will stay with me", it wasn't actually this moment that inspired her change in perspective.
A week prior to Sam's injury, Phoebe accompanied her husband to a Rabbitoh's team function, which happened to be a talk by Hugh van Cuyclenburg about the Resilience Project. It was here that Phoebe found herself "being schooled on a topic most of us tend to shelve."
The talk focused on the incidence of mental illness, and was primarily aimed at rugby league players "whose profession leads them…through extreme highs and lows on a weekly basis," writes Phoebe.
But Cuyclenburg's talk got Mrs Burgess thinking about her own life, and how she tends to deal with ups and downs. "I thought about how often I am pissed off in traffic," she writes.
"I reflected on my eye rolls at phone bills. I was embarrassed that I get cranky when my email downloads take too long or that I complained when my mother called at the worst times."
The project encourages you to write a list of things you're grateful for each day. Not the obvious – husband/wife, family and friends – but the small, abstract things you might otherwise miss.
And Phoebe Burgess' gratitude list reveals a lot about her.
"On day three, I was having my fifth set of cortisone injections in my struggling back. Instead of succumbing to the irritation of being a chronic pain sufferer I wrote my gratitude list in the waiting room," she writes.
And her list is inspiring. She's grateful for her doctor, and for the fact that her condition is manageable. She's grateful for her access to healthcare.
Phoebe's gratitude list, however, evolves every day. And it was perhaps at its most valuable the day Sam was injured.

"On day six of The Project, I experienced a true trough. As my world lay on a hospital bed surrounded by ER doctors and his family, I thought how lucky we were his eyes were open and his legs were moving," she writes.
Phoebe's column is evidence that there's always something to be grateful for.
Practicing gratitude is an evidence-based way to boost your mood, improve your sleep, build your self-esteem, express more kindness, and even improve your immune system and lower your blood pressure.
For Phoebe Burgess, it helped her remain positive during a particularly trying time. And now she has one more thing to be thankful for: Sam is expected to make a full recovery.
Essentially Phoebe advocates that when it comes to times of adversity, perspective can make all the difference.
You can read more about The Resilience Project here.
FROM OUR NETWORK