Pete Murray is one of the most enduring acts in Australian music, with a career spanning almost 20 years.
But the thing he's proudest of is his family.
Having just welcomed a daughter, Saachi, with his wife, Mira, 36, 10 weeks ago, the 48-year-old singer is still buzzing.
"It's really nice," he told Mamamia of having a newborn.
Pete is already dad to two boys from a previous marriage, Charlie, 14, and Pedro, 11, and he says he's glad he waited until a little later in life before starting a family.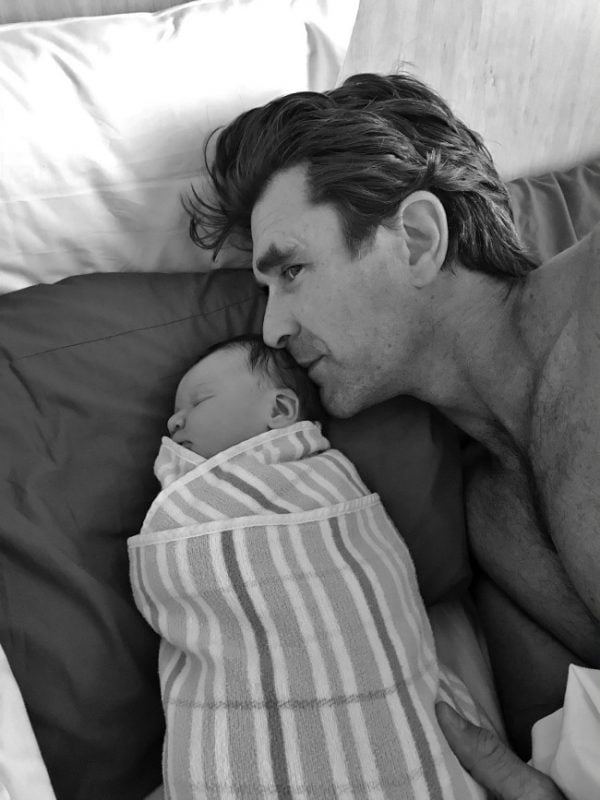 "I think when people have kids in their 20s, it's really tough, because you're still trying to get your life together and work out what you're doing," he said.
"I think having kids in your 30s or 40s is a really great time. For me, my 30s were perfect, because you understand life a bit more and you've got that time to spend with your kid. You're not running out to go to the pub, all the stuff you do when you're a bit younger."
He does have one life regret though.
"One of the biggest regrets for me is not travelling more when I was younger," he admitted.
"I'm travelling now, but it would have been different. That backpacking time, when you just go and you have no restrictions on you. You can go anywhere you want to go and do anything you want to do."
Pete says he bought a house in his early 20s, which kept him anchored here in Australia, and if he could do it all again, he would have done things differently.
"I thought that was really important, but realistically, happiness is more than just those things that are material," he said.
"We are brought up to think we need this and we need that. But you're not doing anything because you're paying off a house. Especially in these days, it's too hard."
It's advice he's imparted on his sons, especially as they grow into young men.
"I think it's a really, really good idea to go and travel overseas. It gets them more educated and they see the world. The first time I went overseas was when I was 22, when I first started playing guitar, so it was quite late to not have any idea of what the world was," he said.
"I remember going overseas and my world opened right up. I saw the types of jobs I could do and I could make money. Because I'd never thought music was that job."
For now though, Pete says he's happy to be at home spending time with his family, although he is set to tour Australia in June.
"The older you get, the more time you want to spend with your kids," he said.
"Quality time is everything. Play with your kids, be there and give them that time, because you'll regret it later. Make it a priority."
And even though it's been over 10 years since his youngest son was born, Pete says having a newborn around hasn't been too jarring so far.
"She's a really good sleeper. There's not too much I can do during the night, because she's feeding, so I just help out her mum and make sure she's not too tired," he said.
The clearly enamoured dad says he's just trying to take it all in and be "present" in the moment.
"I'm really noticing all of the sleep patterns a lot more this time around, and even just her movements. She does this thing where she puts both her arms in the air and pretends she's riding a motorbike," he laughed.
As for his parenting style, Pete says he's "really caring, sometimes a bit too soft".
"I'm a really hands-on dad. I like to do things with them," he continued.
"I'm not the sort of dad who just dumps them with mum or the nanny or whatever, and goes off and does things. Family comes first. I'm always around the kids as much as I can."
LISTEN: I forgot to teach my son not to stick things in the toaster. Post continues below.
And even though this is the first girl for the 'Better Days' singer, Pete doesn't think he'll be "overly protective" of her as she gets older - even when boys come into the mix.
"I think she'll be able to handle herself when it comes to boyfriends and things. I'll teach her to make the right decisions and be able to handle herself," he said.
One thing he has absolutely no regrets about though is becoming a dad.
"I think kids are the reason why we're here. The best thing you'll ever do is have a kid, there's no doubt about it," he said.
Pete will be taking his Heartbeats Acoustic Tour on the road throughout June, July and August.