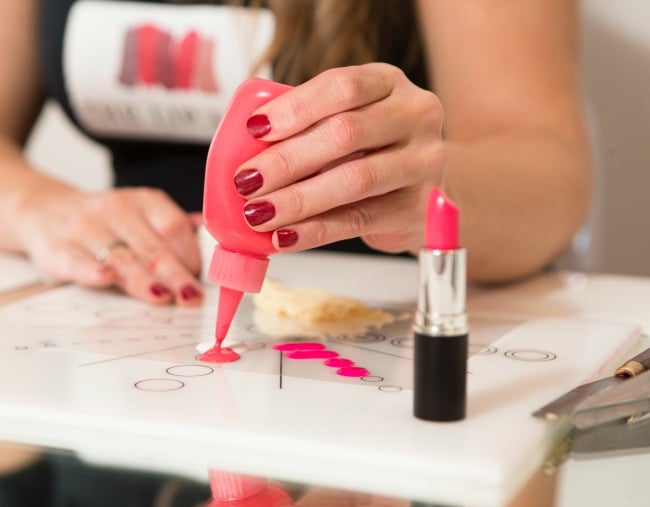 Sisters Kimberley and Courtney Treacy know the arduous search most women go through to find the perfect shade of lippy.
It gave them the idea for The Lip Lab – a makeup brand that lets women design their ideal lipstick or lipgloss for themselves.
Unsurprisingly to anyone who is still searching for a lippy that's just right, the idea of personalised lippy has been a hit and The Lip Lab has expanded to other makeup products since opening their Sydney store in 2014.
Oh, and Kimberley and Courtney both have two children.
They tell Mamamia just how they do it.
Tell us a bit about your business. How did it start and what does your Ladystartup do? 
It all started back in 2014 when we saw a gap in the cosmetics market here in Australia. At the time no one was providing personalised makeup and blending on a scale that we envisioned.
We researched it for about a year before taking the leap and launching our flagship store in Paddington. We started out blending lipsticks and lip glosses, and later added foundations, concealers and highlighters. Customers get to be involved in the entire process, right down to even naming their creation once it's finished.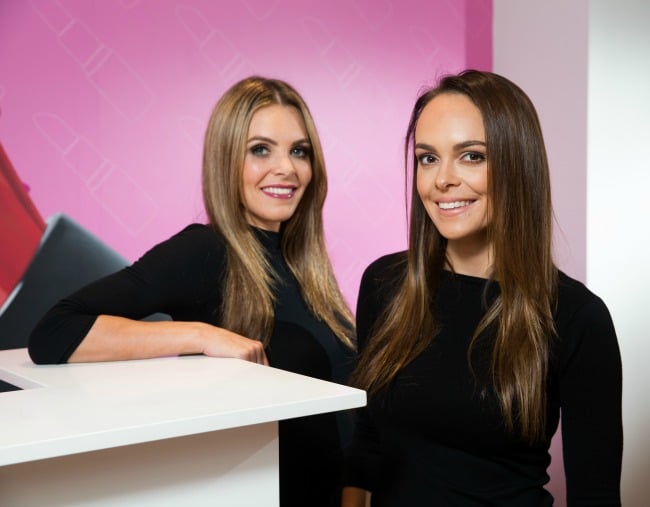 The Lip Lab Co-founders Courtney (left) and Kimberley Treacy (right).
What were you doing before you went into business for yourself?
Kimberley: I was and still am, a salon owner in Camden, Camden Skin Clinic and Spa.
Courtney: I own a Tattoo Removal business (Vanish Tattoo Removal) that visits about 24 salons on a monthly basis.
What made you want to start your own business?
I guess it was always in the cards for us. Our mum owned salons and laser businesses and we just grew up around people who worked for themselves and were entrepreneurial.
How did you come up with the name?
When we started out, we were concentrating solely on Lips, so Lip Lab seemed the obvious choice, as we are starting a process from scratch and making something it seemed the right fit for us. Evolving into foundations has seen us develop the BYO Blend Your Own name now.
Scroll through to see more photos of The Lip Lab and their process.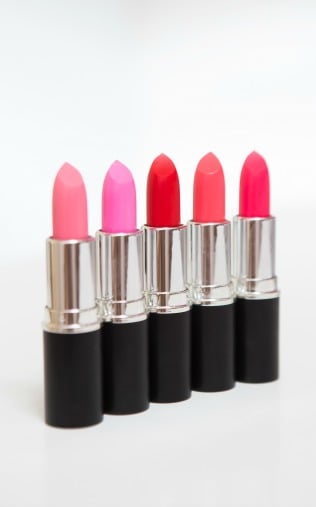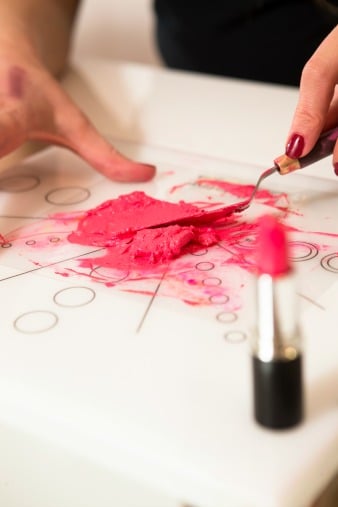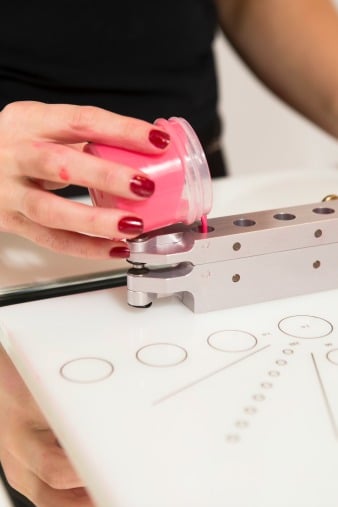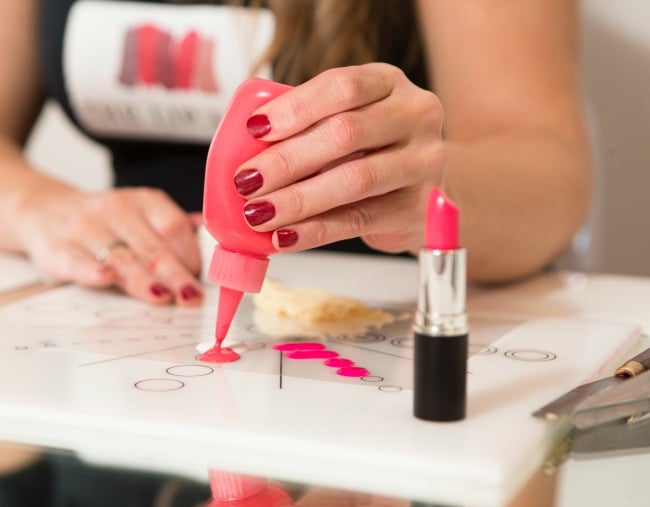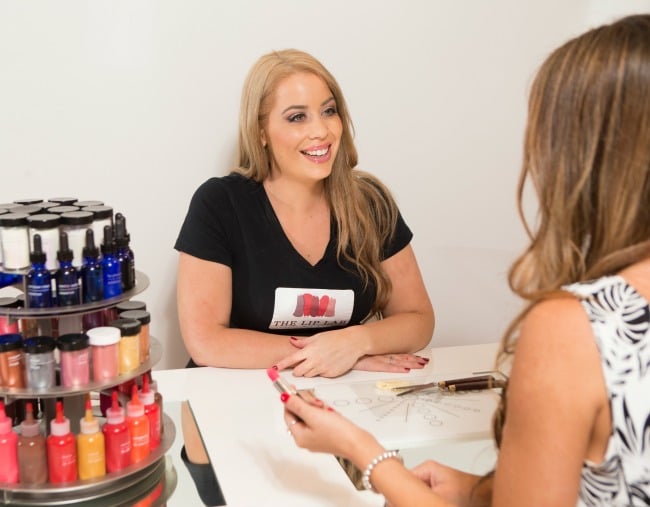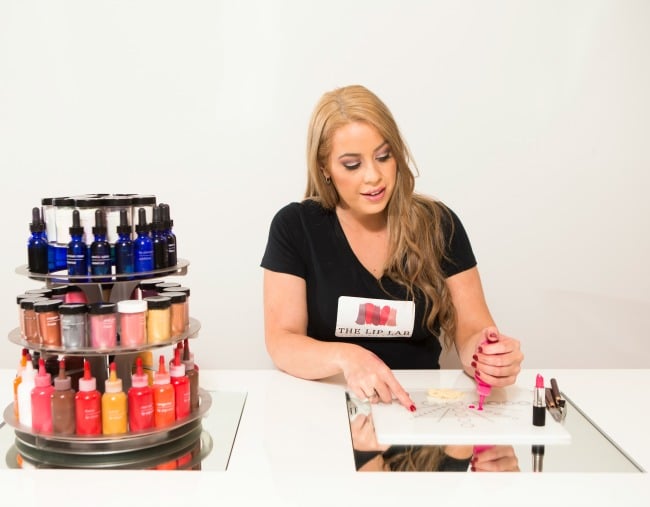 Describe the staff/ownership structure of your Ladystartup. 
We are a PTY LTD company, which we formed on advice from our accountant. There were just the two of us as partners, since we started out, we have changed the structure slightly to include our mother, who has helped us invaluably along the way.
Did you require investment to start your business? Where did that come from?
Yes definitely! We were lucky enough to be able to source from our own savings at first, but as we needed to fit a shop out, pay lease expenses, insurances, legal fees, expand and buy new machines and stock, we had to borrow.
What kind of advice did you get before you started and from who?
We got legal advice from our solicitor for trademark issues, territory agreements etc, an employment contract solicitor who helped with employment contracts, as its very sensitive information we entrust our staff with, and an accountant for all the financial dealings.
What's the single best piece advice you got?
Have a business plan. It seemed so obvious from the start, like we knew in our head what we wanted to do, but it's good to look back at it and see what needs working on. In January each year we plan our year in advance over a two-day holiday, then we break down the year with weekly and monthly catch ups.
The age of 40 is not a deadline, it's a beginning. Post continues.
What's the one bit of advice you would give yourself if you were starting again?
Have more money up your sleeve! People don't realise the money we have invested to get to where we are today. If you seriously knew, you'd die of shock. In the beginning, we thought $50,000 should get us going. So far off the mark! We have been very fortunate that it was a great idea, people loved it enough to invest also in it and open their own stores and obviously, customers love it, so we are winning all round.
At Mamamia we have an expression "flearning" - failing and learning. What have been your biggest flearnings since you have started your business? 
Probably the worst, and I loathe to discuss it, but we organised pop-ups in a few large centres. Unfortunately, the staff we had on board did not do our brand justice, so I'd probably use an employment agency to handle that next time. Other than that, we have been incredibly blessed.
What is the smartest thing you've done since starting your business?
Partnering with Swarovski has been a dream come true. We are working on wrapping our limited edition cases in Crystal wrap and Crystal fabric, the price point will be $150-$550 per lipstick, but we have a waiting list of over 5000 people who are waiting to purchase once they go live. Swarovski have been the most amazing company to work with and very supportive of us as a small business.
The Lip Lab show us how they do it. Post continues. 
Are there any pieces of technology or software, apps or systems that have made it easier to do what you do?
Online bookings have been a godsend. At my salon, we take all appointments via the phone, so we literally have two lines going all day, at Lip Lab we utilise Get-Timely, customers can book online, which means they can make appointments any time of the day or night and they will never get a telephone engaged signal. It's something best implemented from day one, it has inbuilt reports and marketing so it's a breeze to use.
What do you do when you're feeling like you're in a hole emotionally (or financially)? How do you handle those 'deep-trough-of-pain' startup moments?
Emotionally I'd have to say we both have supportive partners that help us through, but I've found, heading to the beach or a movie on my own can clear my head and put everything in perspective. We are lucky that we are also best friends so we call each other, have a winge or cry, then we are fine ten minutes later. Our parents have also been a great source of help, from minding our kids whilst we fly off overseas to see suppliers, to just bringing over cooked meals so we don't starve on the busy days.
How many hours a day do you work on your business? Has this changed? How do you manage your time?
Kimberly: For my salon, I'm there five or six days a week, eight hours a day, but work on the Lip lab via email most days. For Courtney, she works in store with customers two-three days a week and she meets with suppliers a lot with our mum. So I'd say at least 10 to 14 hour days are not unusual.
I think it's important to make lists! I'm a big list person, so every Sunday, I plan my week meticulously, Courtney, on the other hand, flies by the seat of her pants, keeping everything in her head.Up until now, she has been very lucky her brain hasn't let her down.
What are your non-negotiables? 
Kimberley: I train three to four days a week with a personal trainer and I do pilates once a week. I don't miss it for any reason whatsoever, it's so important to my well-being and it honestly helps me work better across all areas of my life.
Courtney: I try to work out every day, sometimes its weights at home with my partner, always at least an hour. I also try to head to the gym once a week with girlfriends to kill two birds with one stone: socialise and train. Both of us are strict on kids beds times, we both have our kids in bed by 7.30pm. Family time with Mum and Dad is also important, we both ring Mum at least 10 times a day and see our parents almost every day.
What's the biggest misconception you had about starting your business - how is it different to what you'd imagined?
That it would be easy - that once you build your business, customers would just come in. In reality it has been a bit harder, you constantly need to be promoting your business, you need new products and new ideas so customers stay interested and I guess everyone wants to be an overnight success, but there is no such thing.
Tell us about your proudest moment?

When we signed with our Kuwaiti partners for the MENA (Middle East North Africa) deal. It was a huge coup for us financially and prestige-wise, these people could probably have started on their own but they chose to fly out here and partner with us. It was a real pinch-me moment for both of us.
What does your personal life look like? Who are the important people in your life and work?
Kimberley: I have a partner Shannon, who has been my absolute rock, from minding the kids of a day (Maddox, four, and Caynan, two) to helping in my salon fit out, to attending meetings with me. We are a team and I'm so lucky.
Courtney: I'd have to say Mum and Dad, they are always there, helping with my children Dempsey, six, and Evie, five, as I'm a single mum. Kimberley and I have a really tight group of about eight girlfriends we have known since we were really young, who are always there to support and cheer us on. We all try to do dinner every few months and over the last 10 years we've all still stayed great friends. They are friendships I see us having our entire lives.
How much sleep do you get every night?
Kimberley: A good eight hours a night.
Courtney: I struggle to sleep, my mind goes all night with new ideas. I'm learning now to keep technology out of the bedroom whilst you're sleeping as it can disturb your sleep, and it seems to be helping.
What can you recommend to women who might want to get their own hustle going?
Be passionate about what you want to do! Jump in and have a go, surround yourself with great people, and if you have an idea that's a bit different, try to keep it shhh and keep the lid on it 'til you're ready to shout it from the rooftops. Also, be prepared to change your direction, be open to changing your plan and make sure you have enough funding when you start out.
Do you have a mentor? Who do you go to for help and advice now?
Our mum and dad are our mentors as they've owned businesses and they know a lot of people who are able to advise us also. Since starting we have been lucky enough to network with some amazing people who have helped us immensely.
Since we're in the #LadyStartUp spirit, which Lady Startups do you recommend? Who should we be looking out for?
Oooh this is a hard one, Although not a new startup now, we both greatly admire Marie Enna Cocciolone from Inskin Cosmedics, who has built probably the best skincare company in Australia and is definitely someone we admire and respect. Her work ethic, the ways she has cultivated her salons to become like family and her business as a whole is something we have tried to follow.
You can see more from The Lip Lab at their website, Instagram or Facebook. If you have a #LadyStartUp or want to recommend one for us to cover, drop us an email: [email protected]