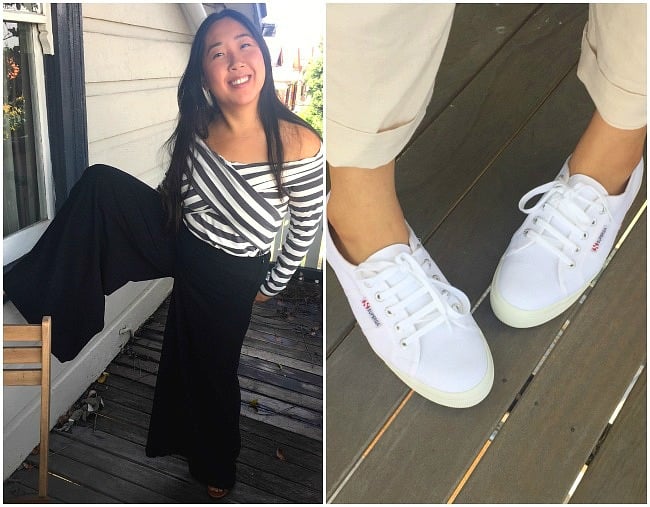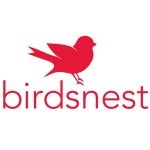 Hi, my name is Jessica Wang and I have a bit of an online shopping problem.
It's not that I buy too much, although that case can be made, but I wouldn't say that I'm someone who has a set personal style.
I like a bit of everything,  and when it's all served up to you on the smorgasbord that is the internet, I get greedy. Next thing I know a little bit of everything goes into my cart. While a lot of it gets sent back, some of it inevitably makes it back to my wardrobe, hardly ever to be worn again.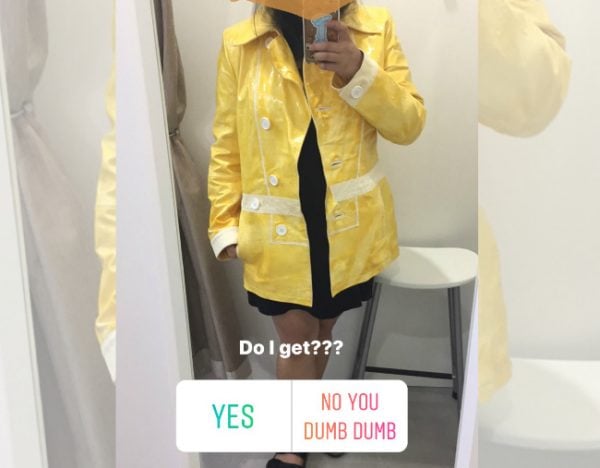 The normal issues apply. It looks different on me than what it did on the model or through my computer screen. I was tempted by the fabulous boho prints and frills that weirdly balloon on my curvy frame. Or I bought a green top despite knowing very well that it just doesn't look good on me. It just doesn't.
And then I went and tried online personal shopping/magical wardrobe curator/body-positive haven birdsnest, and I think it's a very good thing that you simply must know about.
So what is this birdsnest you speak of?
It's a fab Aussie lady startup by a bird (her word, not mine) named Jane Cay who moved from the big smoke (Sydney) to the smaller smoke of Cooma in the Snowy Mountains, NSW.
Their whole ethos is based on giving personalised style advice through the comfort of your computer screen, which, if you ask any millennial... is their only favourite way to shop. You do this by filling out an in-depth style profile asking your height, style, shape, pattern preferences and a whole lot more.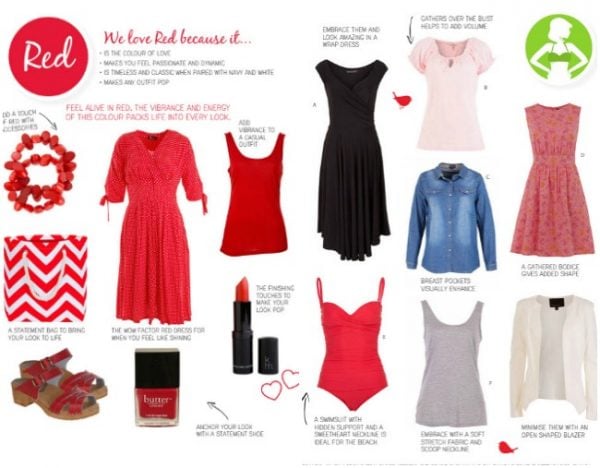 But it also asks you for the nitty-gritty. For example: do you like polka dots? (no), level of boobage (medium to high), preference of colour (neutrals only please), if you prefer dressing casual (yes), and how often you might require the need for something a bit dressier (hardly ever, thanks Mamamia!).
Here's my favourite bit - you get sent a curated style guide where you learn, according to your preferences, what styles will suit you.
Now, I'm generally a size 10-12 depending on the brand and roughly 164cm. My style guide gave me tips on how to cover areas that make me feel self-conscious, like my stomach and arms; how to dress in the colours I like; and what pieces will fit my style personality. It's not prescriptive, but it gives you styling tips so that you can dress and shop for the way you want to look.
So you do your quiz thing. What happens next?
Now that you're armed with all this knowledge, we go shopping.
It's here that you might notice one very special point of difference. The website automatically shows you the models in your size range, whether that's size 8-10, 12-14 or 16+. It's a lovely touch that gives you a better idea of how the clothes might actually look on you.
You've also got a tab with all of your personal style recommendations that are curated based off your style profile. Just like a in-life personal shopper would, but again, all conveniently done from your home, preferably in bed with a cuppa tea and in your PJs.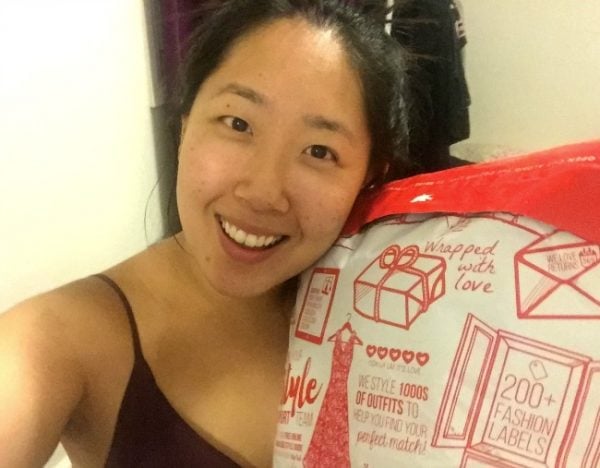 Now, you can either buy select pieces or pay $9.95 and upgrade to a birdsnest 'Changeroom', meaning you can select up to $1000 worth of pieces to try before you buy and birdsnest will give you a paid returns bag to send back anything you don't like. This is the option I went for and it would also be great for wedding, event or denim shopping where you need all the options.
They also offer Zip Pay - so you have 30 days to pay for your pieces, meaning that you can get your return in before the cut off point and only pay for what you keep.
Luckily, birdsnest provides Express shipping on all orders so my order came in a day and it was pretty much like bloody Christmas all over again. Then you do the whole fashion parade in your bedroom, keep what you like, and send back what you don't.
It's blissfully simple.
OK, OK, now quit your yakking and tell us what you got...
In short: while not all were hits, I think I've found my new favourite wide-legged pants, platform sneakers and the most flattering off-the-shoulder top known to man.
Links, names and sizes listed for your convenience. Let's be style twins.
To keep: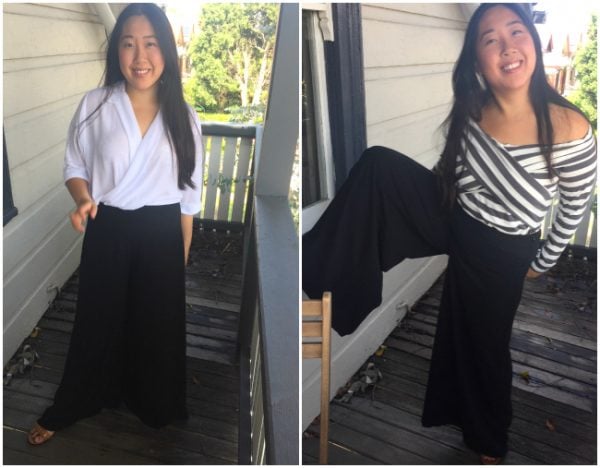 Left outfit:
Top: Bird Keepers - The Cross Over Blouse in white, $89.95, size 10.
Bottoms: Bird by Design - The Wide Leg Skirt Pant, $119.95, size 10.
Right outfit:
Top: Belle Bird - Belle Off The Shoulder Tee, $89.95, size 10.
Bottom: Bird by Design - The Wide Leg Skirt Pant, $119.95, size 10.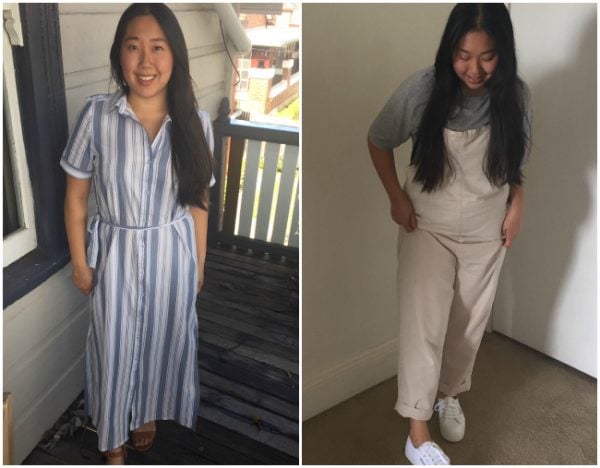 Left outfit:
Dress: Natural For Birds - Natural Shirt Dress, $89.95, size 10.
Right outfit:
Overalls: Nude Lucy - Yoko Linen Dungaree, $89.95, size 10. (t-shirt - author's own)
Shoes: Superga - 2730 Cotu Platform Sneaker, $99.95, size 38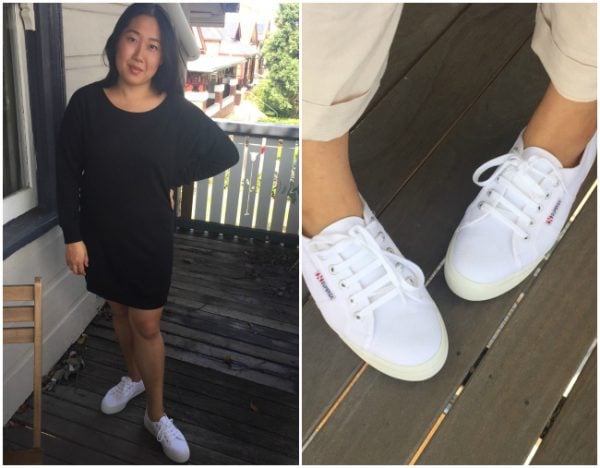 Dress: Betty Basics - Zeke Sweater Dress in Black, $49.95, size 10
Shoes: Supergas - 2730 Cotu Platform Sneaker, $99.95, size 38
To return:
It was the dress that I had to try, but knew deep down that it wouldn't fit. The sleeves were ace though!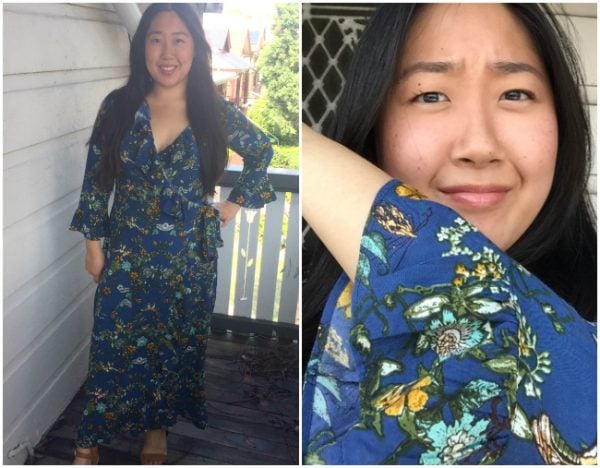 Dress: Boho Bird - Frilled For You Dress, $149.95. Size 12.
So, if you're someone who wants to dabble in personal shopping but thought it would be too expensive, or are just too busy to shop (we see you), Birdsnest might just be for you.
Have you tried Birdsnest and would this be something you'd try? Tell us in a comment right now.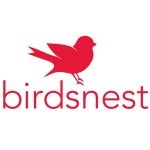 The birdsnest Changeroom is the ultimate try on session, with the freedom to try before you buy! When you upgrade your order to a birdsnest Changeroom for $9.95, they will send you up to $1000 worth of styles to try on, and a paid returns bag to send back anything you don't love. This means you have the freedom to try everything on before deciding what to keep, and you only pay for what you don't send back! Perfect when you're trying to find that perfect fit, or need a new frock for your next event!