We never thought we'd daydream about one day decorating our room the exact same way as a four-year-old, but seeing these new pictures of Penelope Disick's bedroom has changed everything.
The daughter of Kourtney Kardashian and Scott Disick has a "sleek and modern" bedroom that is filled to the brim with cute, girly accents, as photos shared on her mum's personal website show.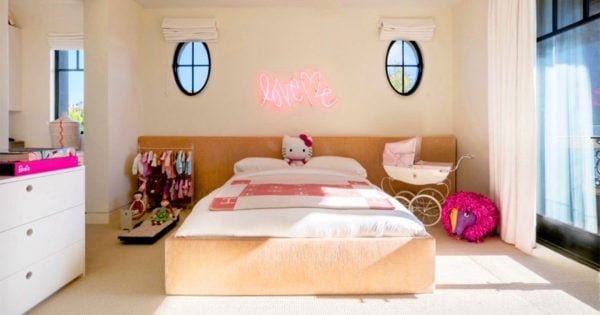 "When we moved into the new house Penelope was ready for a big girl room, but she definitely still wanted a space that was both playful and pink!" Kourtney wrote alongside the pictures.
P's bed is, of course, custom-made by one of the family's designer friends. It's also covered in blush-coloured velvet, which Kourtney says "is great for kids so they don't bump into a wood frame".
We're pretty sure it's also great because VELVET FEELS NICE and looks pretty. But sure, safety first.
There's more than one bed in the room, too. Penelope's beloved rag dolls have their cots set up on the floor right next to hers.