He may be an Aussie sporting legend – but tennis champ Pat Rafter insists that his family is his greatest achievement of all.
The 43-year-old, a former world number one, shot to fame in the 1990s before retiring from tennis in 2002.
Rafter, who has two kids, Joshua and India, with wife Lara, recently spoke to The Motherish about fatherhood, tennis – and getting around in his Bonds undies on national television.
WATCH Bonds Insta-Dads with Pat, Fitzy & Hughesy. Post continues after video…
1. How do your kids feel about having a famous dad?
We lead very normal lives, and try not to let it affect them.
2. Do they mind seeing their dad in his undies on national TV?
I'm sure they have just as many embarrassing dad moments as any other kid at their age, but seeing me in my undies on TV every now and again probably doesn't help.
3. What has becoming a father taught you about life?
Being a good father means being a good husband. My wife and I aren't always going to see eye-to-eye, but what we do is agree to disagree and stand united over big decisions in the family.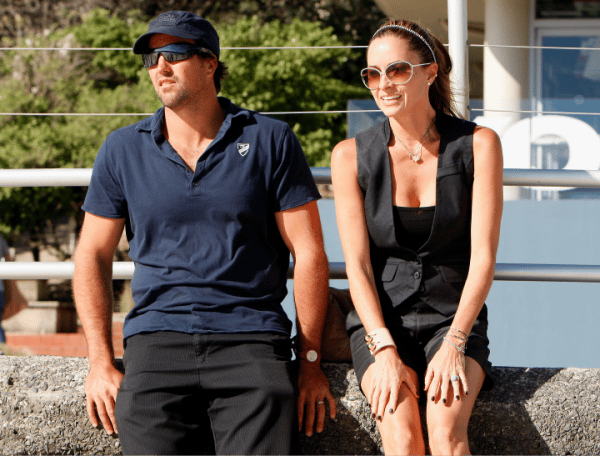 4. What is your best piece of parenting advice?
Spending as much free time as possible with [the] kids. For me this is the most important time, when I don't have do the "parent thing". Hanging out with my kids includes playing on the beach, walking through new cities or even just hanging around the house making animals out of play-dough.
5. What do you consider to be your greatest achievement?
I'd have to say my family.
6. What's the number one lesson you want to teach your kids?
As a father, I naturally want my kids to do their best. That's something I try to instil in them as part of the qualities that help one to succeed in all of life's challenges.
7. How are Aussie dads different to other fathers around the world?
I think Aussie dads have their own way of doing things - they are always pretty relaxed and often their most memorable moments with their kids are the funny or unexpected ones. I also love how in the Aussie culture dads can bond with their kids over sport.  I believe it's such an important and healthy part of their development.
8. Tennis seems to be a sport that breeds a bit of bratty behaviour in younger players sometimes –what advice would you have about behaviour for young players just starting out?
Train hard, keep your mind busy outside of tennis and take your opportunities.
Rafter, a long-standing Bonds ambassador, said he originally jumped at the chance to represent the company.
"Bonds is such an iconic brand, I've worn Bonds for as long as I can remember and now my kids wear Bonds. I've been involved with the business for 14 years, and I feel like part of the family," he said.
The Wimbledon runner-up is now starring in a new Bonds campaign, Bonds Insta-Dads, alongside comedians Dave Hughes and Ryan Fitzgerald.
The campaign is encouraging Aussie dads and mums to share their favourite (and often hilarious) parenting moments by entering them into the Bonds Baby Search.
Click here to enter.
Who is your favourite celeb dad and why?