After causing a national furore by dressing in Muslim attire and storming an Anglican church service on Sunday, the chairman for right-wing radical group, Party For Freedom, has been schooled by The Project host Waleed Aly.
Appearing on Monday night's episode of the program to discuss his group's "peaceful protest" – which included storming the building to interrupt Father Rob Bower's sermon and yelling at parishioners through a megaphone – Nick Folkes told viewers, "I strongly believe not all culture is equal."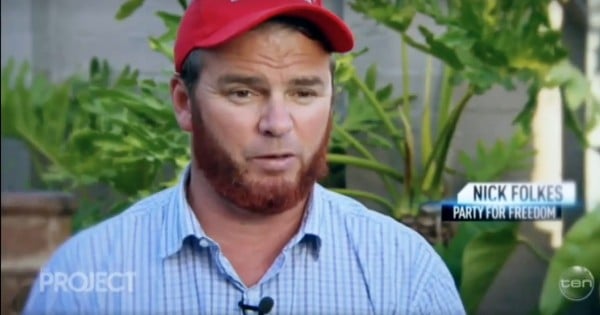 Party for Freedom chairman Nick Folkes. Source: The Project.
Being questioned by panelist Steve Price, Folkes - who appeared on the episode wearing a stick-on beard in an attempt to mock the look of some Muslim men - said he and the group didn't feel they had scared anyone during the protest.