A simple car trip becomes so much more complicated once you become a parent.
It starts when you're pregnant, and your massive bump means you can't slip into the driver's side the way you used to. Then comes the baby phase, when you're trying to manoeuvre a capsule in and out of the back seat. There's the tricky business with the pram or the stroller.
You're trying not to damage any of the cars around you, and at the same time, keep a close eye on your kids. It can all get a bit stressful.
In the UK, parents are banding together to campaign for safer parking. The Give Me Space campaign is the brainchild of Lisa Roberts, a business owner and mum-of-two. She did a survey of 2000 parents and carers, and found that 90 per cent often can't find a parents' parking space. Ninety-three per cent struggle with the lack of space to remove car seats and prams. On top of that, 90 per cent of pregnant women have struggled to get in or out of a car, because of other cars being parked too close. More than half of them say they've had to put excessive pressure on their bump just to be able to drive away.

Roberts is pushing for the government to introduce parent parking recommendations for all car park owners – wider spaces, reserved for parents and parents-to-be. Currently, car park owners are legally obliged to provide disabled spaces, but whether or not they provide parent spaces is up to them.
Roberts has started a petition, which already has more than 3000 signatures. As a temporary measure, she's been supplying people with "give me space" stickers, to ask other drivers not to park too close.
Roberts has also been asking people to share their personal stories to support the campaign.
"When I realised that the adjacent car had parked so close to my car that there was no way I could get the baby's car seat through the gap, I had two choices: either leave the baby with a stranger so I could reverse my car or give my car keys to a stranger and ask them to reverse it for me," wrote grandmother Liz. "Neither were very appealing choices!"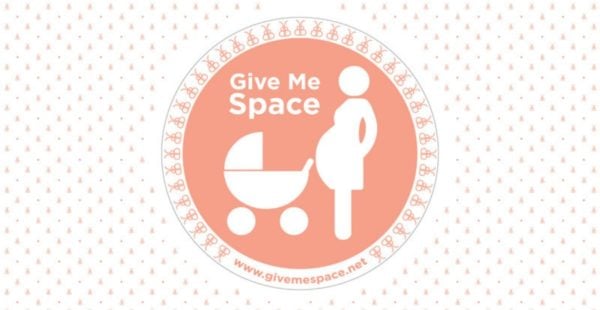 Stickers are being supplied to parents. Photo via Facebook.
Lucy talked about the time she was 39 weeks pregnant and returned to her car to find another car had parked extremely close to her driver's side.
"As a heavily pregnant lady, I had absolutely no chance of getting in. So I had two choices: I could either wait for the owner to return, or I could climb in my passenger side. which I did. But I had bags in there, my gearstick, my handbrake. I eventually got into the driver's seat and I was physically exhausted. I got home, and I went into labour a few hours later, a week early."
Laura, meanwhile, had a bad experience when she was pregnant and out with two small children.
"I waited a while for the driver to return but after a while I decided I had no other choice but to get my five-year-old to put her brother into his car seat from the other side of my car, then had to rely on her to strap him in properly, which isn't easy! I then had to climb over from the passenger side door to my drivers seat to get in!"

Not surprisingly, there have been grumbles online from people who don't have kids, or had their kids a long time ago.
"It seems like parents spend a lot of time expecting to be catered for in life," posted monkeyinpyjamas on the website Stuff.
"Before cars, we did it all on a bus," added kgm31. "Try that!"
Let's get real here. Cars are bigger than they used to be. Parking spaces aren't any bigger.
Going to the supermarket shouldn't be a traumatic experience. If we can make life simpler and safer for pregnant women and parents with small children, why shouldn't we?