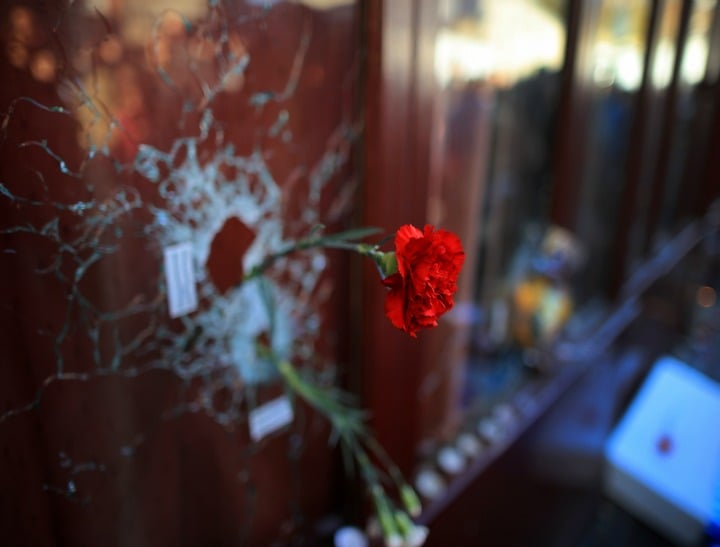 We've rounded up all the latest stories from Australia and around the world – so you don't have to go searching.
1. Paris attacks: Police man hunt under way for one of the eight terrorists.
Three days after a series of horrific attacks in Paris that left 129 killed and 352 people injured the hunt for those responsible has reportedly centered around three French brothers based in Belgium.
It is now believed there were eight people involved in the attacks and that one might still be on the loose.
Last night the first image of one of the attackers has emerged, Serbian newspaper Blic shared a passport photo of 25-year-old Ahmed Almuhamed.
Almuhamed was one of 70 refugees who came into Europe through the Greek island of Leros on a small boat from Turkey.
The passport was found at the scene and investigators are working to verify its authenticity.
An international arrest warrant has been now been released for  a second man, Salah Abdeslam, 26, thought to have been involved in the Paris attacks who escaped.
French police have released a photo of him:
The man is thought to be one of three brothers involved in the killings in central Paris.
Le Monde reports that the names of two of the three brothers who were among the attackers were found on the rental contracts for two cars used by the gunmen – a grey "Polo" found near the Bataclan concert hall where 89 people died and a black "Seat" used in gun attacks on at least two restaurants.
Several Kalashnikovs have been found by police in the "Seat".
The car was found in the eastern Paris suburb of Montreuil on Sunday, suggesting some of the attackers got away from that location.
Police named a second attacker as French citizen Ismael Omar Mostefai, 29, who was apparently known to security services.
Authorities had initially said there were eight attackers, but on Saturday said that only seven attackers had died — six by blowing themselves up and one in a shootout with the police. The Daily Mail reports that survivors of the Bataclan concert hall have claimed that one of the four shooters was a woman.
13 people have been detained so far  in connection with the attacks – six in France, who are understood to be relatives of suspect Mostefai and seven in Belgium.
The investigation leaves fundamental questions to be answered – how the terrorists, who acted in three synchronized teams, managed to pull off the deadliest terrorist attack in Western Europe since 2004. Also how they received direction from Islamic State leaders in Iraq and Syria – with thought this morning they may have communicated via encrypted messages online.
Also on the Paris attacks:
 In a message on one of its websites the Islamic State terrorist group claimed to have carried out the attacks. It said "eight brothers wearing explosive belts and carrying assault rifles" conducted a "blessed attack on… Crusader France".
President Hollande declared three days of national mourning today and promised "merciless" retribution against the Islamic State. This is an act of war committed by a terrorist army, Daesh, a jihadi army," Mr Hollande said from the Elysée Palace. "This was a prepared act of war, organised and planned abroad and with accomplices inside the country which the investigation will enable us to establish." He added: "France will be merciless… inside and outside the country."
Two of the attackers behind Friday's assault on Paris were French nationals who had been in living in , Brussels. Belgium's Prime Minister Charles Michel has said that Belgium needed to do more to crack down on radicalisation ."I do not want any preachers of hatred on Belgian soil! There is no place for them in Belgium," Mr Michel wrote on Twitter.
Panic has broken out at a memorial service at Place de la Republique in central Paris late on Sunday night, local time, when a loud bang was heard. Hundreds of people began running and screaming when the noise rang out however  local reports suggested that it was a false alarm.
Australia's parliament house is the latest building to be lit up in the French colours as a show of solidarity with the French people.
Australia could increase it's involvement in fight against IS.
Prime Minister Malcolm Turnbull, speaking from the G20 summit in Turkey has said it is possible Australia will ramp up its involvement in the fight against Islamic State militants in Syria. "Australia is making a very significant contribution and has done for some time and will consider what future contributions and what the shape of it will be in the light of those discussions" he said.
A 19-year old Tasmania student Emma Parkinson, who was shot in the hip while waiting in line to enter the Bataclan theatre is in a stable condition in hospital following surgery. 19-year old Emma Parkinson, from Hobart, is expected to make a full physical recovery. Stephen Brady, the Australian Ambassador to France has told media that he saw Emma Parkinson and she is doing well. "I was very impressed by how composed she was."
The BBC reports that the most-viewed article on the BBC News site today is a six-month old story about an attack on a university in Garissa, Kenya.    The Garissa story – reporting on details of a massacre of 147 people by the Somalian Islamic State affiliate al-Shabab, has been widely shared over the past 24 hours by people who say it received far less coverage at the time than the attacks in Paris have this weekend.  The article was shared on the Occupy Wall St Facebook page and on Reddit, and left many online confused about whether it was a current event.