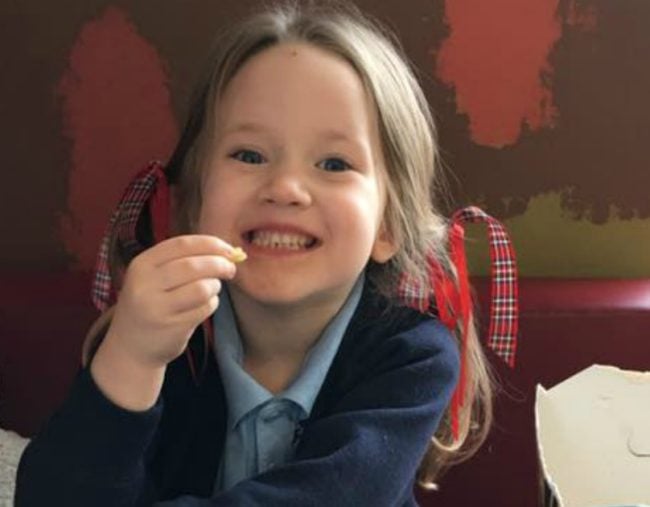 As little Violet-Grace Youens died, the nursing staff at Alder Hay Hospital read her favourite book to her.
The 4-year-old girl, from Liverpool in the UK, passed away after a stolen car struck her while she was walking with her grandmother.
Rebecca and Glenn Youens told the Liverpool Echo, the nurses read We're Going on a Bear Hunt to their daughter five times as she slipped away.
When they found out Violet-Grace would not survive her injuries, the Youens made the heartbreaking decision to donate her organs.
"We thought it would just be a case of them saying 'we could save five lives' and that would be it – but they were actually really sensitive with us and understanding," they told the Liverpool Echo.
"When it was time to wheel her to the operating theatre we asked the nurse not to leave her side and she didn't. She stayed with her right up until she was brought back to us.
"The nurse read We're Going on a Bear Hunt to her five times and they shampooed her hair and put her in her pyjamas before they brought her back up."
Violet-Grace's kidney and pancreas saved two lives and now her parents are raising awareness about the importance of organ donation.
"We went through hell when our daughter was killed by a speeding driver in a stolen car. We are still going through hell every day – but it's made easier knowing that Violet saved two other lives," they said.
"Violet-Grace always just wanted to help people. She wanted to be a doctor and a nurse… .And we know absolutely that if she had been given the chance to help other people she would have."
After she passed away, Rebecca posted a touching tribute to her daughter on Facebook, writing: "She was my companion, best friend and little helper…I love and miss her so much".
"I just hope she is happy in the next life, and she knows exactly how much Mummy, Daddy and Oliver love and miss her.
"Can't believe our whole world has been ripped apart; such a beautiful, kind, caring and compassionate happy and loving, intelligent beautiful daughter and best friend has gone forever."
You can find out more about joining the Australian Organ Donation registry at Donate Life.