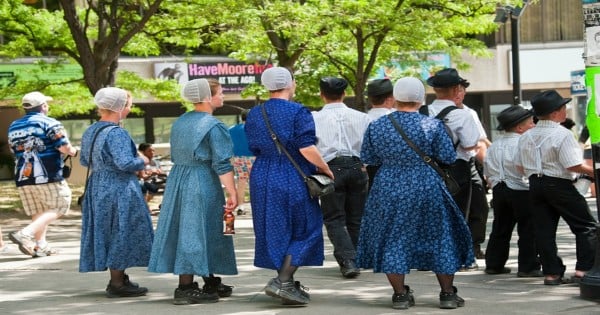 A softly spoken 18-year-old girl, who was "gifted" to a 51-year-old man when she was just 14, has told a courtroom how she still cares and trusts for the man she considers her 'spouse'.
Dressed in a long, puffy blue dress dotted with flowers and polka-dots the young girl has told of her life, along side 11 other children in the home of the man to whom she was 'given' as a settlement for a financial payment by her parents.
The girls' parents who allegedly used her to settle a debt. Via CNN.
The girl has appeared as a witness at a preliminary hearing in Pennsylvania, in the US, for the man, Lee Kaplan, 33 years her senior and her parents, Daniel and Savilla Stoltzfus who allegedly came to the arrangement with Kaplan where he took their daughter as his sexual 'partner' in return for helping them out with a debt.
Daniel and Savilla Stoltzfus, who are former members of the Amish community, faced financial difficulties at the time they 'gifted' him their 14-year-old and "researched the legality of (the deal) on the Internet," according to a police affidavit.
"Stoltzfus stated that his daughter … was 'gifted' to Lee Kaplan in thanks for helping his family out of financial ruin," the affidavit continues.
"Lee Kaplan had sexual relations with her. During the course of those relations, a three-year-old and a six-month-old child were born. Mr. Kaplan had her living there as some sort of repayment for a financial situation," Lt. John Krimmel with the Lower Southampton Township Police Department told Fox 6 News.
The home of Lee Kaplan. Via Fox News.
Yesterday after a 75-minute hearing, District Judge John I. Waltman ordered that Kaplan and the girl's parents be held for trial in the sexual-abuse case.
Police had been alerted to the home of Kaplan after a neighbour who felt something wasn't right called them.