With the news that love is dead still ringing in our ears, it's time to look for some answers to the question: What went wrong?
TMZ claims Brad Pitt and Angelina Jolie's split was the result of irreconcilable parenting differences. The pair have six children together, so how they raise them is probably a big part of their day-to-day lives.
Time to dig up some clues.
In an interview with The Telegraph from November 2015, Pitt talked at length about the couple's marriage and also about their children.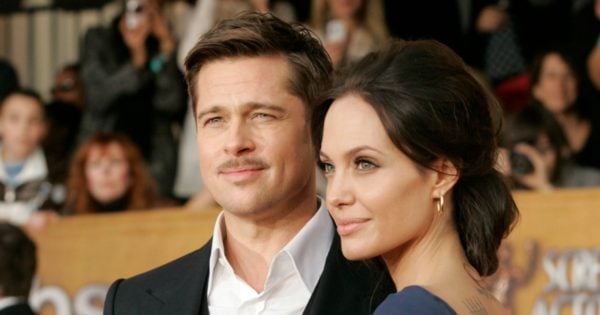 The pair on the red carpet. Image via Getty.
He described the dynamic as "a lot of love, a lot of fighting, a lot of refereeing; a lot of teeth-brushing and spilling…Chaos, total chaos. But so much fun".
And he revealed that when it comes to the couple's three boys, Maddox, Pax and Knox, he is the disciplinarian.
"Girls do no wrong so I don't have to be. I feel like my job is to show 'em around, help them find what they want to do with their life, put as many things in front of them, and pull them back when they get out of line, so they know who they are," he said.
And it has seemed like, in the past at least, Jolie was happy for him to take that lead.