With the news that love is dead still ringing in our ears, it's time to look for some answers to the question: What went wrong?
TMZ claims Brad Pitt and Angelina Jolie's split was the result of irreconcilable parenting differences. The pair have six children together, so how they raise them is probably a big part of their day-to-day lives.
Time to dig up some clues.
In an interview with The Telegraph from November 2015, Pitt talked at length about the couple's marriage and also about their children.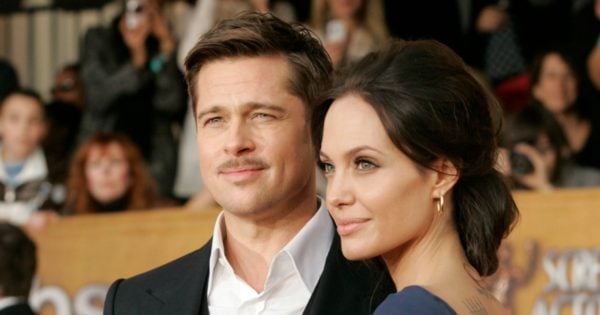 The pair on the red carpet. Image via Getty.
He described the dynamic as "a lot of love, a lot of fighting, a lot of refereeing; a lot of teeth-brushing and spilling…Chaos, total chaos. But so much fun".
And he revealed that when it comes to the couple's three boys, Maddox, Pax and Knox, he is the disciplinarian.
"Girls do no wrong so I don't have to be. I feel like my job is to show 'em around, help them find what they want to do with their life, put as many things in front of them, and pull them back when they get out of line, so they know who they are," he said.
And it has seemed like, in the past at least, Jolie was happy for him to take that lead.
"Brad is a wonderful teacher and guide, for the boys in particular," she told The Mirror in 2014.
"He likes to plan things and proceed in a very deliberate and methodical way. He is much cooler and calmer…I can be more impulsive and outspoken."
It wasn't always the way. She has explained that earlier on in their marriage, she took the lead with discipline.
"I used to be the tougher parent but since the birth of the twins, Brad's had to play bad cop more often. It also depends on which of the children we are talking about," she told OK in 2012.
"Brad has always had this incredible bond with Mad, who's very smart, and Brad loves teaching him about history and art and culture—it's an amazing thing to watch them together."
She said she was closer with the pair's three girls, Zahara, Shiloh and Vivienne.

"I think I'm a little closer to the girls, maybe, but he's always making them laugh. The children are usually very well-behaved though."
So there you have it: it seems the pair may have clashed over Pitt's tendency to strictness, and Jolie's (late-blooming) more impulsive, free-wheeling style.
But one thing that's very clear from trawling through the archives of this pair's very public love affair is that for a long time, their family (and each other) were their everything.
In a prescient 2011 interview with Parade, Pitt admitted he'd weighed the risk of failure and decided Jolie, and their family, was worth it.
"A family is a risky venture, because the greater the love, the greater the loss…That's the trade-off. But I'll take it all," he said.
At the time, he didn't seem to mind her parenting style at all. And that's the family we'll always remember.
"One of the greatest, smartest things I ever did was give my kids Angie as their mum. She is such a great mum. Oh, man, I'm so happy to have her."
Did you know we have a parenting podcast? Join Andrew Daddo and Holly Wainwright every week to discuss every aspect of family life on This Glorious Mess. It's the perfect podcast for non-perfect parents. Listen to the latest episode here: