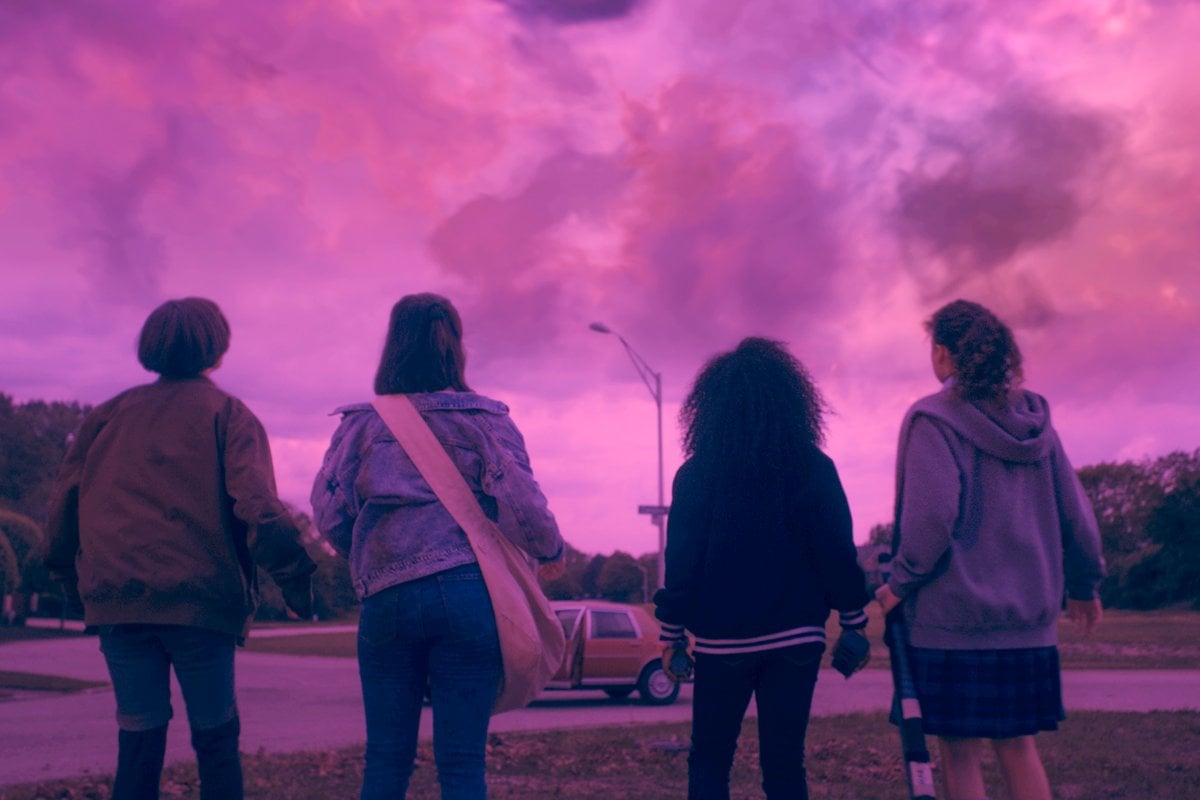 The screech of bicycle tyres. The fling of a newspaper roll thrown over a picket fence. The whoosh of pedals fading into the distance.
If those sounds are hitting a certain nostalgic button within you, then you likely grew up in the 80s.
Back then, paper rounds caused the only buzz around sleepy suburban towns – allowing homes to wake up to a fresh batch of daily printed news, and pour over it with their morning coffee, giving little regard for the teenager who delivered it at 3am.
But that's what Prime Video's new series is about: The kids behind the paper run. Or, more specifically, the Paper Girls.
Watch the trailer for Paper Girls on Prime Video right here. Post continues after video. 
However, if you think that this show is about the mundane rhythm of paper rounds, you'd be sorely mistaken.
Because on one unsuspecting morning in 1988 when the paper girls – Erin, Mac, Tiffany and KJ – team up to shake off some local boys who are trying to pester them, they find themselves caught in the crossfire of two groups of very bizarre (and very futuristic) looking people. 
Why? Well, because they've time travelled, of course.
This zip into the future takes the girls on a wild journey of trying to get back to 1988 – but not before they meet their future-selves ...which we can all agree would be a rather jarring development in anyone's life. 
The show is launching the careers of four rather talented teenagers, and three of them Mamamia had the chance to sit down with to chat all about the behind-the-scenes mayhem that is filming a sci-fi series. 
Camryn Jones is the 15-year-old actor behind the role of Tiffany, Riley Lai Nelet is the 14-year-old playing Erin and Finna Strazza is the 15-year-old actor behind KJ.