1. Coroner's report deepens mystery around Otto Warmbier's death.
US student #OttoWarmbier held in #NorthKorea died of oxygen-starved brain, says Ohio coroner https://t.co/8YZIeLP0G6 pic.twitter.com/6EC9l3SUhy

— The Straits Times (@STcom) September 27, 2017
Just a day after we heard from the parents of Otto Warmbier – the 22-year-old who died six days after being returned to the US after 17 months incarceration in North Korea – details from the coroner's report have been released, deepening the mystery around the young man's death.
Otto's parents, Fred and Cindy Warmbier, gave an interview with Fox News yesterday to tell the world "North Korea is not a victim. They are terrorists".
In the interview, Fred described the moment they first saw their son when he was returned to the US in June this year.
The family had been told Otto was in a coma with severe brain damage, but Fred said his eldest son was wailing, making "inhuman" sounds, and writhing about on the stretcher when they first saw him on the plane. He also said their had been evidence of injury – with a large scar on Otto's foot, and that his bottom teeth "looked as if they'd been rearranged with pliers".
To read details of Fred and Cindy's interview, click here.
Now, details from the coroner's report have been released by the Cincinnati Enquirer (from Otto's hometown) that appear to dispute the claims of torture made by Otto's family, which were then backed up with a tweet from President Donald Trump labelling North Korea's treatment of Otto "torturous".
Instead, the Hamilton County coroner who examined Otto after his death (the parents refused a full autopsy) said Otto's body exhibited small scars, and that his "teeth are natural and in good repair".
The coroner, alongside several experts, could not find evidence of torture, and the report said the young man had a "well-developed and well-nourished" body.
The cause of death, it was determined, was brain damage due to lack of oxygen – put down to an injury that occurred more than a year prior to death, or soon after Otto was imprisioned.
The North Koreans said Otto's brain damage came from food-born botulinum poisoning, but doctors in the US found no evidence confirming this.
Otto was convicted and sentenced to 15 years hard labour in January 2016 for stealing a propaganda poster while travelling as a tourist to North Korea. He died June 19 this year.
2. Bullies could face 10 years in prison with new law inspired by Libby Bell, who died at 13.
Anti-bullying law proposal sparks debate after teenager Libby Bell's suicide https://t.co/FjE5jkqk5m pic.twitter.com/g5i5hBZPgx

— ABC News Adelaide (@abcnewsAdelaide) September 10, 2017
An anti-bullying bill has been introduced to the South Australian parliament inspired by the death of 13-year-old Adelaide girl Libby Bell, who took her life in August.
"Libby's Law" has been drafted by Australian Conservatives MP Dennis Hood and will include a penalty of up to 10 years' prison for bullying offences.
Mr Hood says a preventative and educational approach to cut down bullying has failed and he insists it's time to get tough on verbal and physical abuse.
Education department statistics showed last year that 14 per cent of SA students were bullied at least once a week.
"We've got a situation where children are literally killing themselves as a result of bullying. I'm just not prepared to sit back and let that continue," Mr Hood said.
Readers seeking support and information about suicide prevention can contact Lifeline on 13 11 14. There is also Kids Helpline 1800 55 1800 for young people aged 5 to 25.
3. Fake news writer who believed himself "the reason" for Donald Trump's presidency found dead.
Famous fake news writer who 'got Trump elected' is found dead in his bed from 'accidental overdose' https://t.co/UWIW65laWe

— Daily Mail US (@DailyMail) September 27, 2017
A leading writer of fake news articles during the 2016 presidential election has died at the age of 38.
Police on Tuesday said they discovered Paul Horner dead in his bed on September 18.
They say Horner had a history of prescription drug abuse and that "evidence at the scene suggested this could be an accidental overdose."
Horner was known for writing false stories and disseminating internet hoaxes that often went viral on Facebook and hoodwinked thousands of people.
They included a story falsely claiming Barack Obama was gay and a radical Muslim, and another saying protesters were being paid thousands of dollars to demonstrate at Donald Trump's campaign rallies.
In an interview with The Washington Post, Horner said he thought Trump won the White House because of him.
4. A wedding is coming: GoT actors Kit Harington and Rose Leslie marry.
.@GameOfThrones stars Kit Harrington and Rose Leslie are getting marriedhttps://t.co/y0ukxXnTce pic.twitter.com/JvFhToaoON

— Yahoo Canada News (@YahooCanadaNews) September 26, 2017
Game of Thrones actors Kit Harington and Rose Leslie, who enjoyed an on-screen romance in the HBO TV hit series, have announced their engagement.
Harington, who plays Jon Snow in the fantasy drama, met Leslie, who played Ygritte, in 2011 while filming the second season of the Emmy-winning show in Iceland.
"If you're already attracted to someone, and then they play your love interest in the show, it becomes very easy to fall in love," Harington told Vogue magazine in an interview.
The British duo, both 30, had only a brief on-screen romance before Leslie's character, Ygritte, died in the arms of Snow in season four. Her final words, "You know nothing, Jon Snow," have became one of the show's most famous lines.
To read about the sweet way their engagement was announced, click here.
5. Measles alerts after infected man attended AFL preliminary final.
Man took measles to AFL preliminary final https://t.co/bA4VANINhi pic.twitter.com/uTjqy20acB

— Event Health (@Event_Health) September 27, 2017
A Victorian man attended Melbourne's sold-out AFL preliminary final on Saturday night while infected with the measles, the state's health department says.
The man joined the more than 95,000 people at the MCG for the Richmond vs Greater Western Sydney game while infectious.
"When you're talking (about) a big crowd like that … there's a possibility we will see more cases as a result," a Victorian Health Department spokesman told AAP on Wednesday.
The diagnoses take the number of measles cases confirmed in Victoria in the past month to five.
"Measles has an incubation period of up to 18 days so those at risk of measles who visited these locations might show symptoms up until October," deputy chief health officer Dr Brett Sutton said in a statement.
"The illness usually begins with common cold symptoms such as runny nose, red eyes and a cough, followed by fever and rash."
6. Twenty-five babies were born on the way to hospital this month. Paramedics have some delivery advice.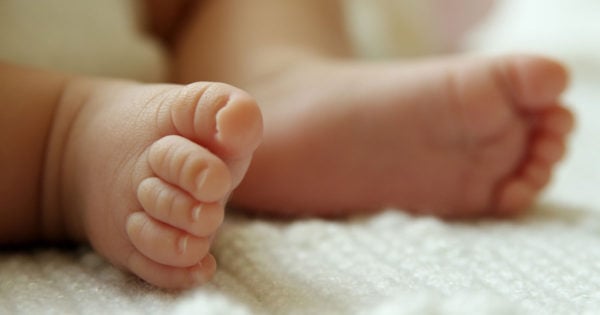 Twenty-four babies have made it into the world before their mothers could reach NSW hospitals this September, prompting paramedics to issue advice on what to do if a newborn doesn't want to wait.
The newborns, including a set of twins in Orange, were born with the help of triple-zero call-takers and paramedics and are among 289 already born outside the hospital birthing suite this year, according to NSW Ambulance.
In 29 cases, mothers didn't even make it in time to reach the phone.
Over the past decade ABS figures show September has the highest number of births each year.
Paramedics on Wednesday reminded mothers who go into labour quickly that their first step should be to call for help.
"Often our highly trained call takers have been on the line right through to delivery to celebrate the birth of the child," Chief Superintendent Tim Collins said in a statement.
"Advice includes placing the mother in the most comfortable position, guiding when to push and supporting the baby as it makes its way into the world."
Other tips included ensuring the woman in labour does not sit on the toilet, making sure dry towels are on hand, gently wiping the newborn's mouth and nose on arrival and not cutting the umbilical cord.
7. High Court to make public reasons for SSM ruling today.
This is about fairness. Treating everyone the same.

And that's all it's about.#PostYourYES: https://t.co/jmlYeoyuw7 pic.twitter.com/IM54C1Mpdb

— AU Marriage Equality (@AMEquality) September 24, 2017
The reasons behind the High Court's decision to give the same-sex marriage postal survey the green light will be made public.
The full bench's written judgment is due to be published on Thursday, three weeks after the ruling was made.
It found the finance minister did have the power to fund the $122 million voluntary survey in the way he did, allowing forms to be mailed from September 12 as planned.
Two groups of same-sex marriage advocates tried to stop the postal survey, arguing the government should not have bypassed parliament in funding it.
The voluntary survey was the government's plan B after the Senate blocked the compulsory plebiscite promised by the coalition at the 2016 election.
The survey closes on November 7, with results to be published on November 15.