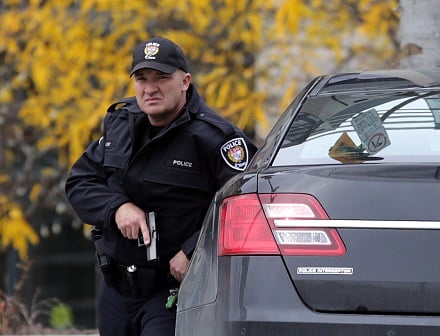 The Canadian capital, Ottawa, is in lockdown after a gunman shot and killed a soldier before shooting at least 30 times inside Canada's parliament building. MPs were close by at the time of the shooting.
"One shooting victim succumbed to injuries … one male suspect has also been confirmed deceased," the Ottawa Police Service said.
The soldier — Corporal Nathan Cirillo — was shot while standing guard at Canada's National War Memorial around 10:00am (local time), the ABC reports.
A short time later the gunman was killed during a shootout after being chased into parliamentary buildings, CBS News reports.
A source told Reuters authorities are now investigating a man named as Michael Zehaf-Bibeau, who US agencies have been advised is a Canadian convert to Islam, as a potential suspect.
It is not known if there is more than one shooter and most of the Ottawa downtown area is in lockdown while police go door-to-door, searching for what they suspect may be other potential gunmen.
Royal Canadian Mounted Police have warned people in downtown Ottawa to stay away from windows and rooftops.
Canadian Prime Minister, Stephen Harper, who was addressing his cabinet at the time, took shelter during the attack, as he and other politicians were told to barricade the doors.
Mr Harper, who has since left Parliament Hill for a secure area, condemned the "despicable attack".
"The prime minister reiterated the importance of the continued functioning of the government and our Parliament," a statement from his office said.
Cabinet minister Jason Kenney tweeted that a parliamentary guard was also wounded in the incident.