For the first time in what seems like forever, the Oscars red carpet action was overshadowed by the drama that took place in the show's closing minutes.
There was still a teeny bit of red carpet chatter, after one actress appeared to suffer a rather unfortunate mishap when the thigh-high split on her Oscars gown showed off a little too much.
And because the internet never forgets, she wants to set the record straight on exactly what went wrong.
Speaking exclusively to the Daily Mail, 36-year-old actress Blanca Blanco said that all wasn't as it seemed when her dress slipped and showed off her "side vag" (and more).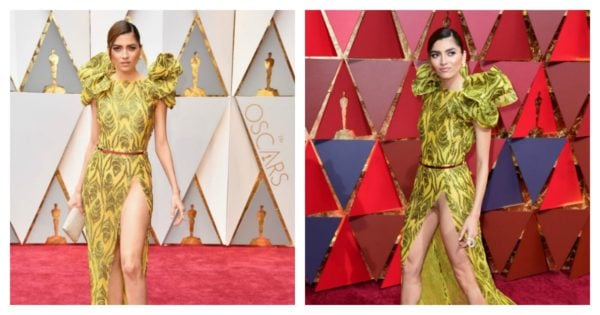 "I had a bodysuit on, it as like a swimsuit, for some reason the pictures are looking like I have nothing," she said.
"It was a nude colour, it matches my skin, so I wasn't naked."
Despite knowing that no one saw any part of her body that she didn't want them to, the California-born, Mexico-raised actress is still mortified having her image splashed across the world.
Listen: The Recap team debriefs on the drama of the 2017 Oscars. (Post continues after audio.)
"Because I had the swimsuit underneath I didn't even think much of it but when I was walking forward I grabbed the dress because I realised it was slipping..." she said.
"When I was watching the show people were texting me and saying, 'You are like everywhere, they are saying you don't have underwear' and I was like 'What? Oh my god, this is so embarrassing'."