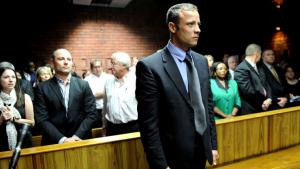 The Oscar Pistorius trial is ongoing, and the paralympian has had a very visceral reaction to hearing post-mortem evidence regarding girlfriend Reeva Steenkamp's murder.
As pathologist Gert Saayman relayed to the court the condition of Steenkamp's body after she was shot in the head, Pistorius had to be brought a bucket which he retched in to until the trial was adjourned.
Throughout the proceedings, he continued to cry and vomit.
The court heard that Steenkamp had been shot three times – in the head, the hip and the arm. Saayman added that the particular bullets used – a "black talon" type – were designed to cause the maximum amount of tissue damage and disintegrate on impact with human tissue.
After being shot, she would've only been able to take a few breaths, before losing consciousness.
The pathologist also revealed that there were bruises on Steenkamp's body that were not related to the shooting and appeared to have been caused by a "blunt instrument".
The details of the evidence Saayman gave in the court were deemed to be too graphic to be broadcast, and the judge, Justice Thokozile Masipa, ruled that tweets and blog posts could not be sent from the courtroom.