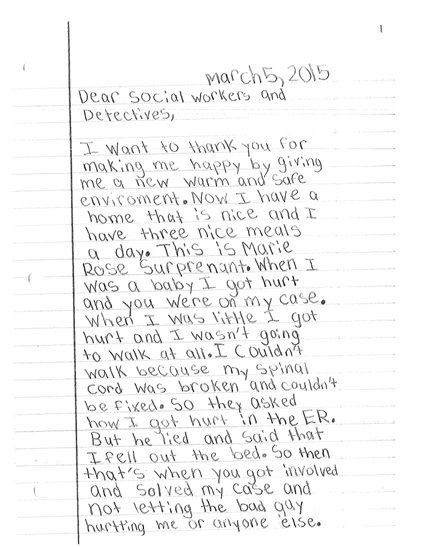 We're not crying, we've just got something in our eye… 
Trigger warning: This article details child abuse and may be triggering for some readers. 
Marie Surprenant was eight months old when she was first admitted to hospital with horrific injuries from months of abuse at the hand of her mother and boyfriend. Weighing just six kilograms, she had 14 fractures, including a broken spinal cord which left her paraplegic.
At eight years old, Marie is now is a happy, bright, intelligent child with an academic scholarship, three pets and a loving mother – a stark difference from the painful start to her life.
She taught herself how to push her own wheelchair at just 17 months old, she goes to art camps and drama camps, and even surfs.
Related: This is not about 'context' or parental judgement. This is what child abuse looks like.
Marie has written a touching open letter to the social workers who took her out of the care of her abuser and completely changed her world.
"When I was little I got hurt and I wasn't going to walk at all. I couldn't walk because my spinal cord was broken and couldn't be fixed," Marie wrote in her letter.
"They asked how I got hurt in the ER. But he lied and said that I fell out of bed. That's when you got involved and solved my case," read Marie's heartbreaking letter.