Online shopping can be a great way to nab a bargain or hard-to-find products, but it doesn't come without risks.
Just ask Shaylee Mae-Potter.
The NSW woman ordered a swimsuit with a "plunging open back and armhole" from an online store, but quickly discovered it was, ahem, much more low cut than she had anticipated.
"Okay I'm really sorry for the half nude shot! But I have ordered this 'Pamela' swim suit in the size eight… [I was] so excited to try it [only] to find it looks like this!!" she posted on the brand's Facebook page.
"I can't stop laughing, I'm in hysterics. It looks like I'm in a Borat suit," Potter added.
The post has already attracted more than 8,000 likes, with some other users sharing similar experiences.
Listen: Do we need to go back to shopping by junk mail? Mamamia Out Loud host Monique Bowley thinks so. Post continues after audio.

Fortunately, the store was quick to respond and reach out to try and fix the problem.
"Hi Shaylee, thank you so much for sending a photo through! The black Pamela one piece is very low cut and is shown on our website and also through our lovely customer's photos," they responded.
"However, it does look like you may have received a faulty item from us and I am so sorry about that!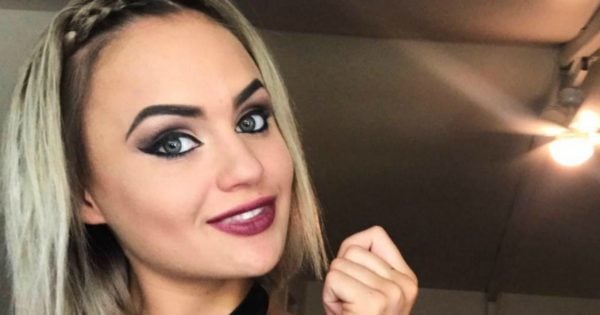 Shaylee-Mae Potter. Image: Facebook.
"I'd be more than happy to arrange a replacement or another item for you."
However, it might be a while before Potter is brave enough to shop online again.
"I think I'm going to stick to going to the shops, my first online experience will now haunt me forever," she added in the comments.