Political candidate Shan Ju Lin was dismissed from the One Nation party on Saturday after she posted a statement on Facebook which included the phrase "gays should be treated as patients" .
The message was posted above an article about a homosexual couple who were accused of sexually abusing their foster child in 2011.
The article did not mention how the men were later cleared of all charges in 2014 and how they went on to launch a multi-million dollar lawsuit linked to the case.
The comment read: "Abnormal sex behaviour leads to abnormal crime. Gays should be treated as patients, they need to receive treatments."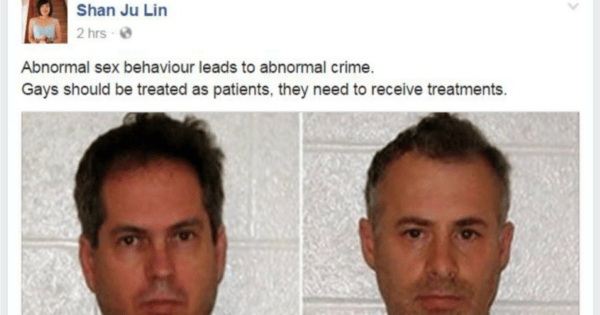 Ju Lin has since told the ABC she will not apologise for the comments made on Friday as she does not believe they were in any way homophobic.
"The gay community always say they are born like that… the best way to know if they're born like that, they at least need to have a medical consultation so they know if they're born like that or not," she said.
Well, Ju Lin, I don't mean to sound like I'm on a Year Eight debate team, but the Oxford dictionary defines homophobia as a "dislike of or prejudice against homosexual people."
Now, I'm not going to say you dislike homosexuals, but your comments were offensive, anti-gay and hurtful.
As a gay person myself, I'm just going to go ahead and consider them homophobic. Soz.