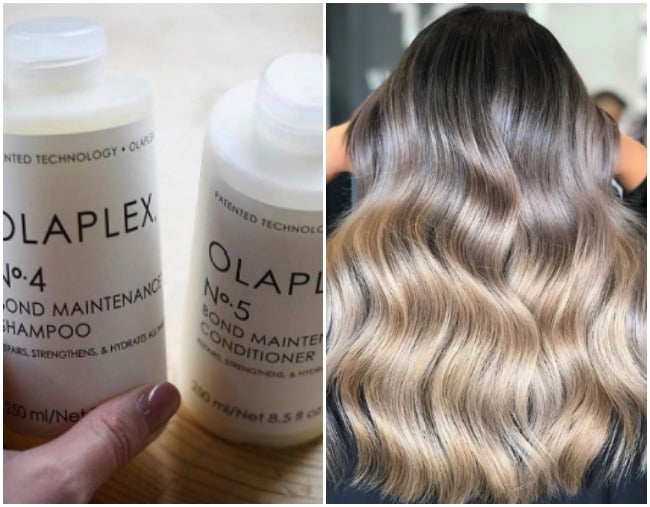 One of the many eternal quests us women find ourselves on is the search for a good hair treatment.
Because we know we're supposed to limit colouring and heat-styling,  and we know we're meant to get a trim every six to eight weeks, but let's be honest, ain't nobody got time for that (also, I personally want waist length mermaid hair so I ignore my hairdresser and run away when he tries to book me in for my next cut).
And so we search for a treatment that's going to hydrate. And soften. And make split-ends a bit less split-endy.
For many of us, that treatment turned out to be Olaplex No.3, an at-home hair mask launched back in 2014 (along with two other products used in the salon) which works within the shaft of each strand, linking bonds within the hair to repair damage.
It quickly gathered cult-like status in beauty circles – Emma Stone, Drew Barrymore, Jessica Biel, Chrissy Teigen and Kim Kardashian are all fans – for its ability to transform hair overnight (sleeping with a small amount in damp mid-lengths and ends is the best way to use it).
And now, Olaplex fans, you're gonna want to be sitting for this… because the brand has *finally* released its first ever set of at-home shampoo and conditioner.
They're called the Bond Maintenance No.4 Shampoo and Bond Maintenance No.5 Conditioner ($49.95 each, so not cheap) and come in the same premium but no-frills packaging as the treatment.
Not just for blonde or coloured hair (a common misconception with Olaplex), the shampoo and conditioner is formulated with the same trademarked 'Bond Building Chemistry' to improve the internal strength of the hair as well as moisture levels.
The key is to use a small amount. I'm talking tiny. The formulas are really potent, so trust me when I say more is not more with this shampoo and conditioner. Formulated for all hair types, the result (for me, anyway) is hair that feels hydrated and soft but not weighted down or limp. Win.
In even better news, the whole Olaplex range is free of silicone, sulphates, phthalates, DEA and aldehydes, and isn't tested on animals. The new shampoo and conditioner is also gluten free, nut free and vegan.
 Want to be part of something BIG? Want to help make the world a better place for women and girls? Plus go in the chance to WIN $100? Take Mamamia's survey now!