While pregnant with her daughter in 2013, first-time mum Amy Dawes was focused on a vaginal delivery. No drugs, no intervention; she was "all set to breathe her out".
Yet when the contractions began, it became clear her plan had been scuppered. After more than 12 hours of pain so intense she was vomiting, an epidural was administered. And when it eventually came time to push, her little girl wasn't delivering.
The obstetrician gave Dawes two options: C-section or forceps.
"At that time I just burst into tears because they both sounded really scary to me, but the cesarean was the thing I'd heard most about, a lot of negative stuff. In my eyes, it was just something I wanted to avoid," the now-Brisbane resident told Mamamia.
The forceps delivery that followed left Dawes with a third-degree perineal tear and a bilateral levator avulsion, which means her pelvic floor muscles had been pulled off the bone, leaving her pelvic organs exposed. She now requires a splint just to keep them in place inside her body.
"I always thought I was going to be a really fit mum, you know, chasing around after my kids. I now often wonder whether my children will ever get the best of me," she said.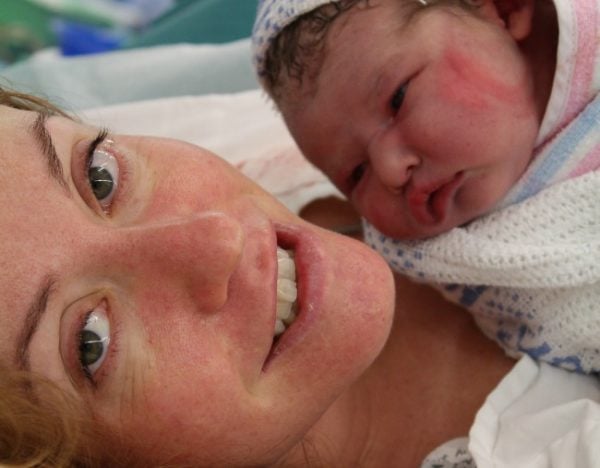 Pockets of the medical community are renewing their concern that a concerted effort to reduce C-section operations is influencing the decisions pregnant women make about their birth, women like Amy Dawes.
The debate is most heated in NSW where the state's health department has a policy in place that explicitly aims to lower C-section rates by increasing the number of women who have vaginal births. That policy is called 'Towards Normal Birth', and seven years, four premiers and a failed target deadline later, it's still active.