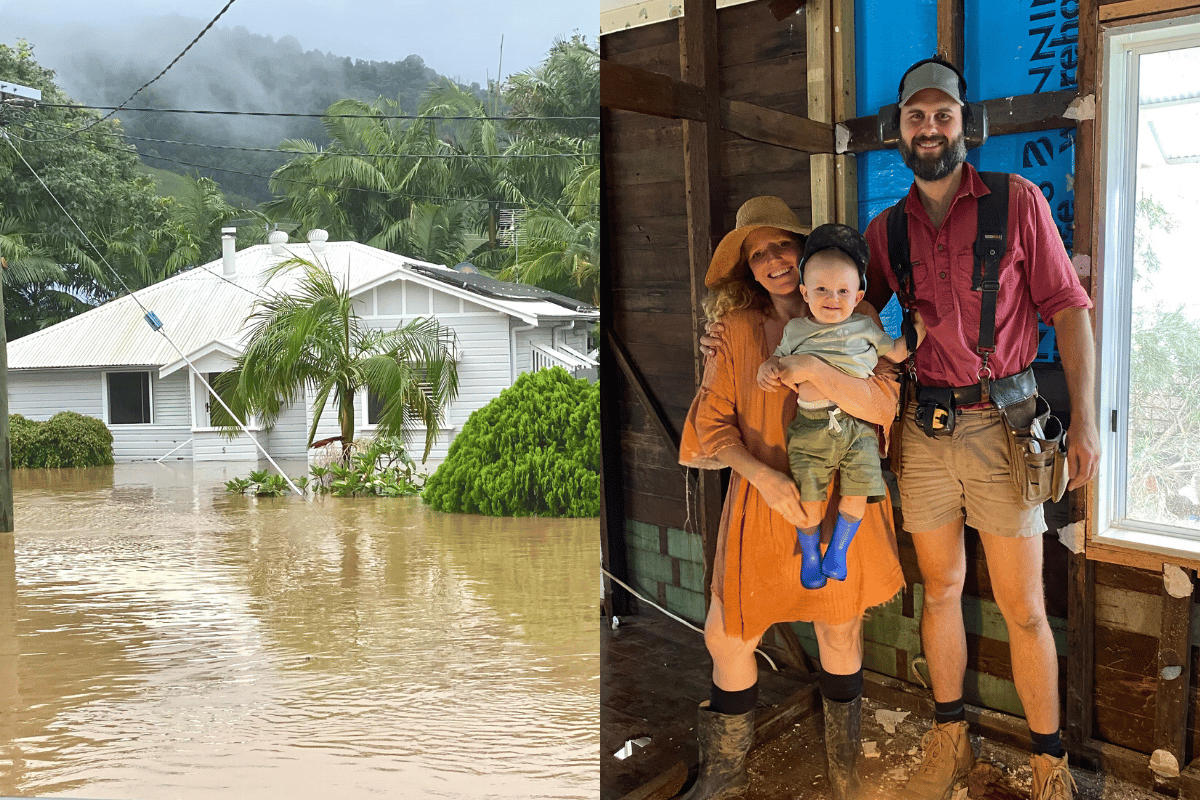 Water is flooding homes for the second time in a month in northern NSW. 
But at Camilla's home, in Tumbulgum, there was nothing much left to destroy. 
The 37-year-old, who is five months pregnant with her second child, lost everything in the floods mere weeks ago. 
"It's absolutely soul-destroying because we've been through lots of floods but we've never had floods so close together," she told Mamamia.
Camilla was one of the thousands of residents told to evacuate their homes again this week - just as her community was starting to get back on their feet. 
"Our home is empty but it means another cleanup… You just think, not again. It's just so stressful," she shared. 
"How much more can people take?"
Her partner, Tom, was supposed to return to work as a builder this week and Camilla was meant to have a 20-week pregnancy scan on Tuesday.
Instead, she was trapped at her Aunty's house in North Tumbulgum away from Tom and her son, who were staying in temporary accommodation, 40km away in Pumpenbil. 
"I just came here to get a good night's sleep... and now I can't get out and get a [pregnancy] scan. I get really anxious about being so far away from the hospital and I don't want to go into labour out of nowhere."
"I feel like this is the time I should be nesting and getting organised."
Instead, she's in survival mode and suffering from "severe exhaustion" and "flood fatigue".
***
The family first fled their home on Monday February 28 when they woke up to find water rising around the house.
"We went to bed on Sunday night and woke the next day and we were completely surrounded.
"We were watching the steps at the front of our house and thinking surely this will go down, surely this will go down but it just kept coming up… So we started thinking 'ok, what are we going to do now?'"
Five months pregnant and with a 14-month-old son, Camilla was stressed about the prospect of having to get in a boat to flee to safety.  
"In those situations, you're in such a stressful mindset… and I really didn't want to get in a boat with my 14-month-old. I just thought if we fall into the river that's it.
"There were cows swimming around and dogs howling. It smelled like petrol everywhere. People were yelling from their houses and alarms were going off." 
The couple, along with Camilla's sister - who was staying over at the time - clambered on top of their kitchen bench.
"We were just sitting there miserable while the water was coming in," she recalled. "Then it started to come in faster."