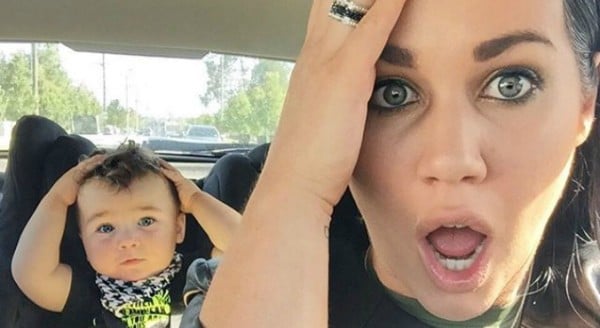 "We knew our lives would change and we prepared ourselves as much as you can before a baby arrives." (Image via intagram.com/theyoungmummy)
In my mind, I have everything I've ever wanted. I have a caring, sweet man who has asked me to spend the rest of my life with him. We have our cute family home – white picket fence included.
We also have a 15-month-old boy running round under our feet, a boy we like to call Bobby. A boy who has quickly become the sole reason for my existence and my inspiration to better myself every single day.
But once upon a time I held a grave fear. A fear that I would never meet my Bobby. A nightmare, in fact. (The Mamamia Staff share their advice for Mums. Post continues after video.)
You see, ever since I was a child I had this overwhelming maternal urge. I had this connection with babies and kids that made me yearn for a large family of my own one-day. I was raised in a family of four daughters, so perhaps I inherited this from my mother, who knows.
But at the raw age of 17, a certain conversation I had with a radiologist really broke my heart for the first time.
"You're going to need IVF when you're older."
I was in a haze. I left that room not only wondering why a sonographer thought it was appropriate to diagnose a teenager to her face as infertile ever so casually, but my heart hurt with the realisation for what this meant for my future.
It all started with heavy periods, and an extremely inconsistent menstrual cycle. In my early teenage years, that was never a problem. Not having a period for four months… who is complaining?
Getting a period three times in a month – then I was certainly whinging. Yet at that young age it never really occurred to me that I had an actual problem. (Post continues after gallery.)
The Young Mummy on Instagram.
I know what you're thinking. You were 17, why would it have bothered you then? The Doctors, my gynaecologist, and my mum – they all said: "You don't need to worry about that stuff now."