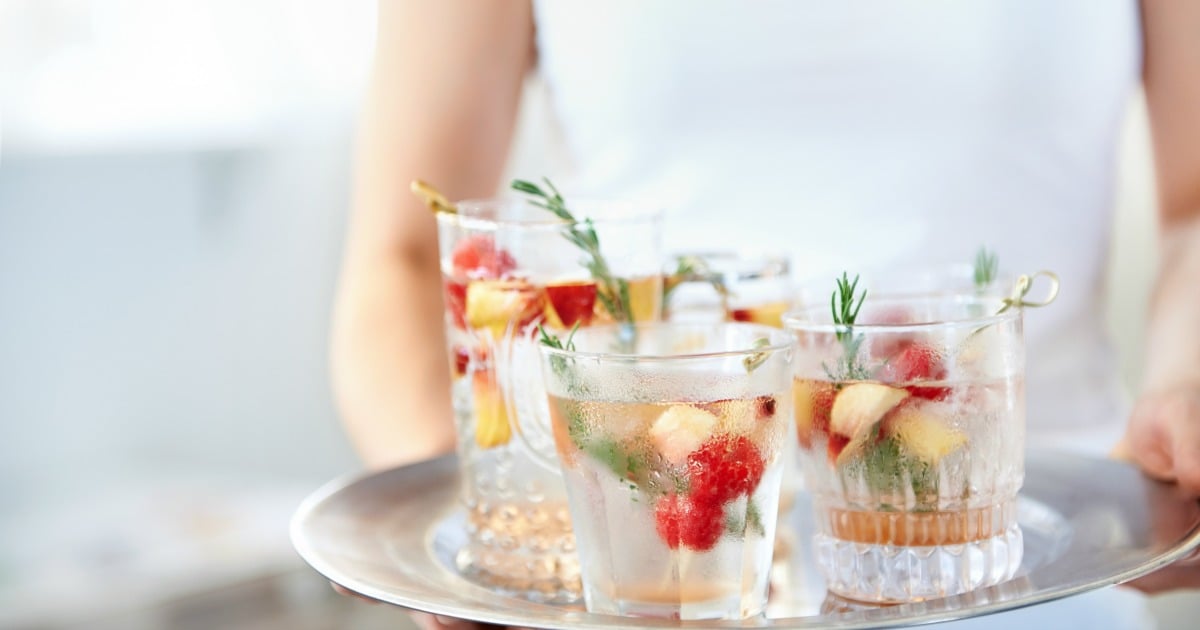 If you decided to boot the bottle recently, you will be all too familiar with some of the awkward situations it can land you in.
From after-work drinks to catching up with girlfriends over a bottle of rosé, maintaining a teetotal attitude in the great Australian drinking scene is bloody hard.
And then there's Christmas.
Aussie Christmas = beers by the pool. A chilled Sav Blanc with your prawns. Boxing Day Bloody Mary's at the pub. The festive season is as closely tied with hangovers as it is Santa and Coles Pavlova.
So, how to tackle Christmas as a non-drinker? Here are our best tips.
Bring your own drinks.
Don't set yourself up for failure by arriving to your Christmas parties empty handed. After all, choosing a glass of flat Sprite over a lovely glass of prosecco isn't the easiest decision.
Be prepared and stock up with PLENTY of delicious pre-made mocktails or soft drinks that won't make you feel like you're missing out.
BYO esky and stash it somewhere in the house where it won't get swiped.
…and make them fancy.
Don't just stock up with any old tin of Passiona.
Do your research, and find yourself some delicious non-alcoholic drinks to bring along and be involved in the party. From non-alcoholic rosé to super-cute pre-packaged mocktails, you won't even feel like you're missing out.
We love Periquita Non-Alcoholic Rosé, and PS40 Craft Sodas.
No one will ever tell the difference!
Don't make a big deal of it.
Walking into your family Christmas and declaring, "I'm not drinking!" is going to see you get a pretty standard response: a few guffaws, some scoffs, and Uncle Bob shoving a Corona in your hand and telling you to can it.
People feel personally attacked about their own drinking habits when faced with someone who doesn't drink. Does it make sense? No. Does it happen? All the time.
So, hot tip: don't make a big deal out of it. Roll on in with your non-boozy beverages, and they'll be none the wiser. Drinking soft drinks? Pop in a cocktail glass. Opting for orange and soda instead of orange and champagne? Stick to the champagne glass and no one will ask any questions.
Have your reasons handy.
Be clear on one thing: you don't need an 'excuse' not to drink. But what you will have are your reasons – so make sure you're clear on what they are before heading along on Christmas day.
Work out what your goals are and be honest. Are you working towards a fitness goal? Do you want to start the new year clear-headed? Are you sick of hangovers?
Whilst you don't want to guilt your family for drinking, you can still stand firm in your reasons to steer clear of the booze.
Lisa Wilkinson talks about her husband's decision to stop drinking, and how it overhauled their 24-year marriage. (Post continues after podcast)
Don't romance the drink.
It's an age-old tradition to celebrate momentous occasions with a drink: whether it's raising your glass of wine, or popping a champagne cork, we associate happiness and celebration with alcohol.
Be mindful this Christmas to avoid triggers that might see you want to pick up a drink. Be prepared to hear a lot of, "C'mon, it's Christmas. You have to have to a glass of champagne at least!" – and know how you want to react. Untangle your need to drink from celebrating Christmas. Not drinking doesn't make you The Grinch.
And for anyone looking for a little extra support with their decision not to drink this festive season, try out the Hello Sunday Morning app. It will connect you with a whole international network of like-minded folks looking to attack Christmas booze-free.
It will give you tips, let you share your experience, and even give you handy nuggets of support….like figuring out how much money you've saved since quitting drinking.
'Tis the season for giving, so why not give your body a break, and start your 2017 with a healthy body and a clear mind?