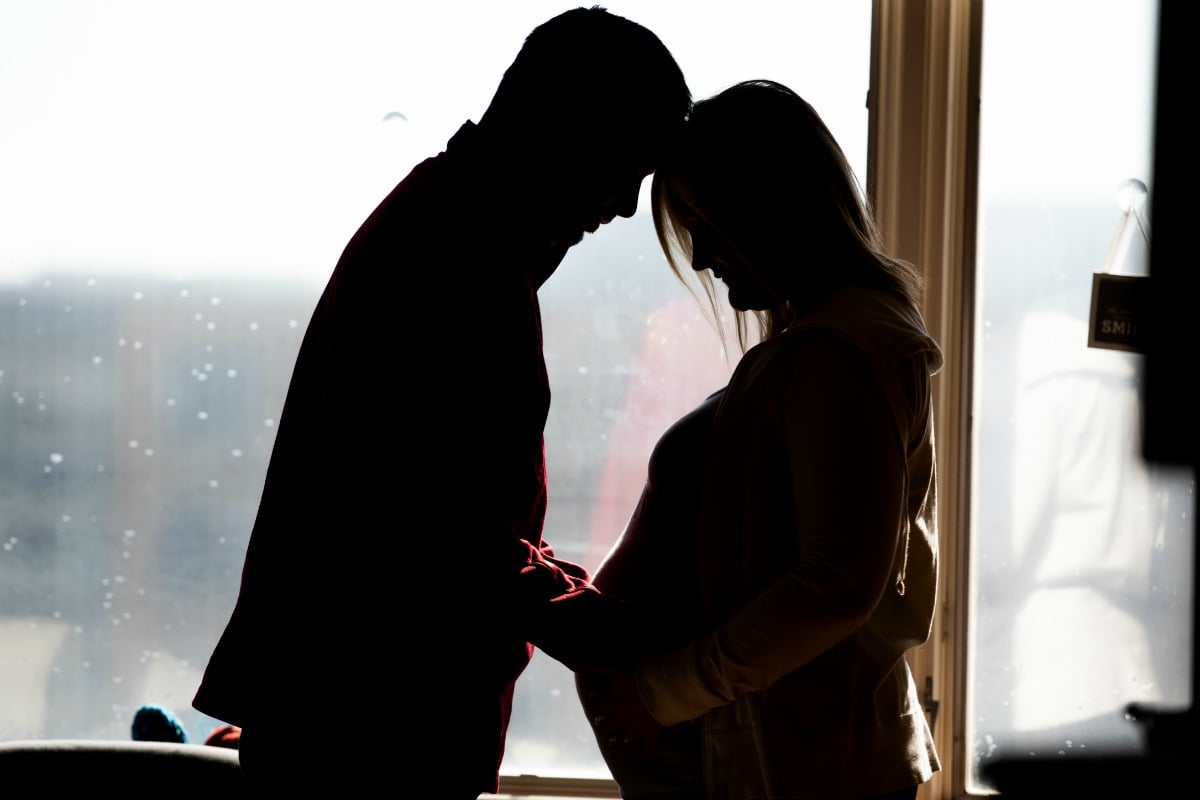 This post deals with miscarriage and might be triggering for some readers. 
The ultrasound technician wiped off the wand, handed me a box of wet wipes, and apologised once more before leaving my husband and me alone in the darkened room. I cleaned up as best I could, pulled on my underwear and pants over the sticky goop that never quite wipes clean, and went to the chair where my husband was seated. I draped my arms around his shoulders, resting my forehead on the crown of his head.
My tears fell into his hair. "I can't do this again," I said, and that was that.
Watch: Tina Arena speaks to Mia Freedman about her miscarriage on No Filter. Post continues below.
We'd resisted making a firm decision about having more children.
Nine months earlier, our daughters were four and six years old and we still hadn't decided whether or not we would have more children. My husband wanted one more. I was ambivalent, but as the years passed and the newborn days faded into memory, I became certain I didn't want to repeat them. I loved my job and I was finally regaining some of my autonomy after so much time serving the children day in and day out.
Some Friday nights, glass of wine in hand as we watched a rare television show together, one of us would ask, "Are we gonna have any more kids?"
"I don't know…" the other would begin, and we would take turns ticking off our well-rehearsed pro and con list. The cons were very concrete; the pros more abstract. It was apples and oranges and in the end, we'd move on without a resolution.
Eventually, I started saying, "I don't think so." It was getting late, and hitting the reset button seemed ever more difficult the older our girls got.
And then I got pregnant.
My husband beamed when I told him; I cried. I'd thought that door was closed, and it was a jolt to my system for it to swing open so abruptly.
I had some time to settle into the idea of having another baby, though. We started making plans to remodel the house; we even started talking about names. When I miscarried, it felt natural to try again.
After the second miscarriage, though, I was physically and emotionally spent. That day in the ultrasound suite, I became firm in my conviction that the childbearing years of my life were over.
Not having any more children was the logical choice.
Two days after the procedure to remove tissue from my second miscarriage, I was in the emergency room with an infection. I doubt I was ever very close to death, but with a 104-degree temperature that didn't respond to medication and a pain in my uterus that felt like I was being ripped in half, I certainly saw death as a possibility.