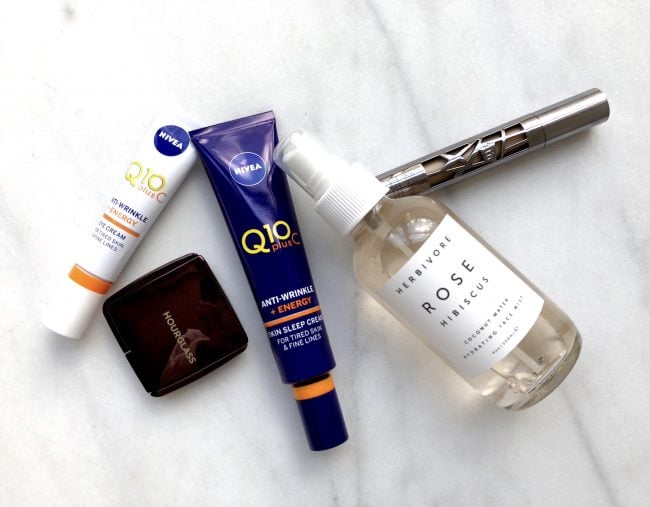 Thanks to our brand partner,
NIVEA
I'm not very good at following rules.
I know that in winter we're meant to drink more water, hydrate our face and limbs more and generally pay extra attention to our skin, but I'm naughty – I do the opposite.
I basically sit on top of the heater. I have long, hot showers and soak in steaming baths. I drink too much coffee and not enough good old H20. And don't even get me started on the state of my hairy and scaly legs hidden under jeans for months.
But now we're seeing the back of winter, I need to whip my skin into shape again, and fast. I do think that every year (you'd think I'd learn!), and this season I'm confident I've finally nailed the perfect combo of products to get my complexion glowing again.
NIVEA Q10 plus C Anti-Wrinkle and Energy Skin Sleep Cream.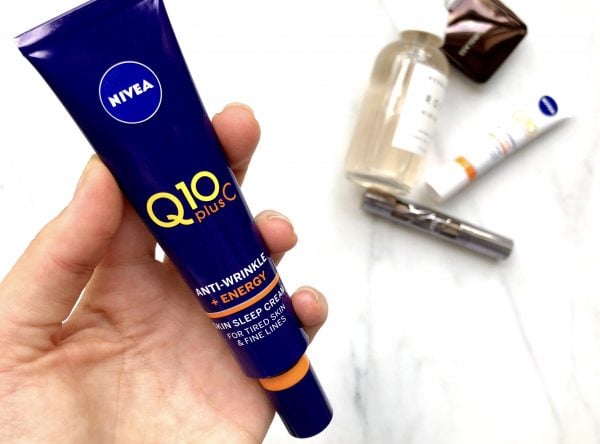 When I read that this NIVEA Sleep Cream fights the signs of tiredness I wanted to drink it. But I didn't. Instead, I trialled it on my skin.
The cream, as the name suggests, is used at night. Subbed in place of a typical night cream, this formula works to reverse dullness and fine lines, and makes skin look fresher and brighter while you're catching ZzZs, so you wake up with skin that just looks...healthier.
It's able to do all of those great things thanks to two pretty powerful ingredients, both of which are antioxidants.
The first is CoEnzyme Q10. It naturally occurs in the body and its job is to help your cells with growth and maintenance. As we age the amount the skin generates naturally decreases, so adding it back topically helps to energise the skin.
The second is pure vitamin C. This antioxidant helps to protect cells from the damage caused by free radicals (AKA bad stuff in the environment like cigarette smoke, air pollution and ultraviolet light from the sun, as well as just general ageing).
The body uses pure vitamin C to make collagen, too, so the result of using it on our skin is a complexion that looks smoother.
All that sciencey stuff aside, I was really impressed by how my skin looked in the morning after using this cream the night before. Given it was a one step process, the glow-factor was truly exciting.
NIVEA Q10 plus C Anti-Wrinkle and Energy Skin Eye Cream.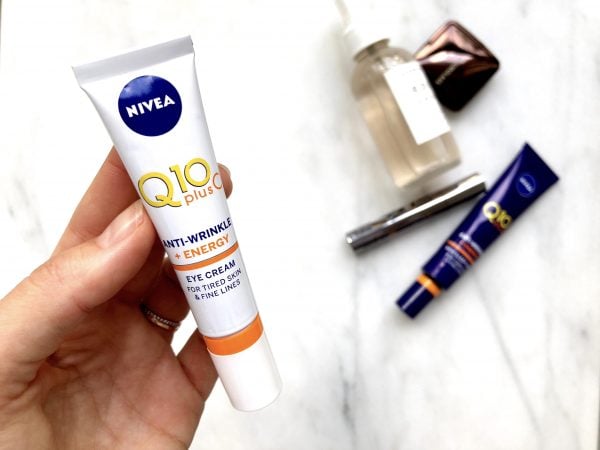 Now that I'm in my mid 30s, fine lines around my eyes are one of my main concerns. The problem though is that most eye creams formulated to treat lines and wrinkles are really thick and full-on.
That's why I was surprised by the consistency of the NIVEA Anti-Wrinkle + Energy Eye Cream - it has a beautiful silky texture that once tapped around my eye area with my ring finger, absorbed right in.
For that reason I've not only been using it at night but also in the morning because it layers so beautifully under my concealer.
It's also formulated with Q10 and vitamin C, both of which help make the eye area look firmer while reducing fine lines. The result is eyes that overall just look more refreshed.
Urban Decay All-Nighter Concealer.
With my skin looking fresh and radiant, I don't really want to cover that up.
So, instead of reaching for my usual foundation, lately I have just been spot-concealing instead. It's a trick I learned when I interviewed Nicole Richie - she told me she focuses on just two products - eyeliner and concealer.
The Urban Decay All-Nighter Concealer is great because it's full coverage but also really blend-able. I use it under my eyes on top of my eye cream, and also use it to cover any blemishes I have at the time.
It's waterproof, meaning it's great for sweaty, humid weather as spring heats up and won't move all day. I blend it with a small sponge for the most flawless finish.
Hourglass Ambient Lighting Powder.
Now that my skin is glowing and my areas of concern are hidden under a little coverage, I like to add a bit more radiance by way of highlighter.
The Hourglass Ambient Lighting Powder is basically like an Instagram filter for your face, but IRL. I use 'Diffused Light' which is a warm pale yellow shade. It can be used all over but I concentrate it on my cheekbones, down the bridge of my nose, and on the inner corner of my eye.
Instant angelic glow.
Herbivore Rose Hibiscus Face Mist.
This last step is more of a sensorial one.
I use the Herbivore Rose Hibiscus Face Mist at my desk in the mid-afternoon when I'm really temped to reach for some chocolate or a third coffee.
The refreshing spritz across my face helps to make me feel energised and more awake. It smells like heaven, too, and I keep it in the fridge as summer approaches for a quick cooling hit.
What are your tips to get glowing skin in spring? Tell us in the comments!
This content was created with thanks to our brand partner Nivea
Supercharge your skin
Tired, dull looking skin? Fight back and supercharge your skin with new NIVEA Q10 plus C sleep cream; its powerful combination of pure vitamin C and Q10 energises skin cells to regenerate overnight, fighting dullness & fine lines, so you wake up looking refreshed and healthy.