Isabelle Robinson, 17, was hiding in a dark closet inside Marjory Stoneman Douglas High School in Florida on February 14 as a gunman prowled the corridors, smattering the school's classrooms with bullets.
She didn't know it at the time, but 17 of her teachers and fellow students would be killed in the attack. And the person allegedly responsible, the 19-year-old with the gun, would turn out to be her former classmate, a student who she once tutored, Nikolas Cruz.
Now, Robinson has written an extraordinary op-ed for The New York Times outlining her experience with Cruz – from when he first struck her hard in the back with an apple five years ago in the school cafeteria, to those terrifying moments in which she hid in a closet, fearing for her life.
Why has she shared her story? To answer the current backlash in which people are wondering: If only his classmates were kinder to him, showed him more attention, maybe Cruz wouldn't have done what he allegedly did. The sentiment even has a hashtag, #WalkUpNotOut, in reference to the walk out protests students staged across America last week.
Robinson is appalled:
"The idea that we are to blame, even implicitly, for the murders of our friends and teachers is a slap in the face to all Stoneman Douglas victims and survivors," she writes.
And, from her account of Cruz's behaviour throughout his time at the Florida high school, it's overwhelmingly clear – it wasn't the role of students to intervene.
Mia Freedman and Amelia Lester examine the long-term fall out of the Florida School shooting. Post continues below.

"My first interaction with Nikolas Cruz happened when I was in seventh grade," her essay begins.
"I was eating lunch with my friends, most likely discussing One Direction or Ed Sheeran, when I felt a sudden pain in my lower back. The force of the blow [Cuz had thrown an apple] knocked the wind out of my 90-pound body; tears stung my eyes. I turned around and saw him, smirking."
A year later, and Robinson was recommended for a peer couselling program in which she helped other students with their studies. It was a responsibility she "took very seriously", even when she was assigned to tutor her former tormenter, Cruz.
The tutoring did not go well, Robinson says: "I was forced to endure his cursing me out and ogling my chest until the hourlong session ended. When I was done, I felt a surge of pride for having organised his binder and helped him with his homework."
But she didn't complain to teachers because she, like many teenage girls, possessed a "strong desire to please".
Robinson believes nothing could have been done by Cruz's classmates to change the outcome of these horrific events. She says he showed "aggressive, unpredictable or violent tendencies" and his fellow students were way out of their depth in dealing with his behaviour.
"The implication that Cruz's mental health problems could have been solved if only he had been loved more by his fellow students is both a gross misunderstanding of how these diseases work and a dangerous suggestion that puts children on the front line," she writes.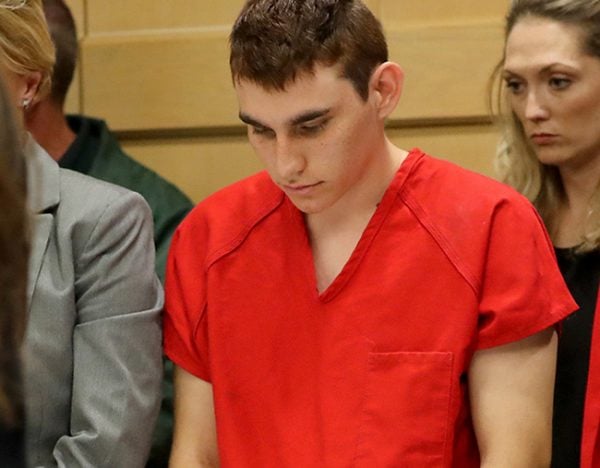 She says the responsibility to intervene resides with school administrators - not students. And - like many students in the US - she is calling for stricter gun control measures to help prevent school shootings.
"No amount of kindness or compassion alone would have changed the person that Nikolas Cruz is and was, or the horrendous actions he perpetrated," her article reads.
"That is a weak excuse for the failures of our school system, our government and our gun laws."
Cruz, 19, is facing 34 charges, including 17 counts of premeditated murder in the first degree and 17 counts of attempted murder in the first degree, CNN reports. Earlier this month, a judge entered a "not guilty" plea on Cruz's behalf, as the defended refused to issue one himself. Prosecutors are seeking the death penalty.