The announcement that Richie Strahan chose Alex Nation as his Bachie love for life may be old news now, but the conspiracy theories around the longevity of their relationship are continuing to swirl with fervour.
The latest comes via an apparent school friend of 24-year-old Alex's and was raised on WA's Hit 92.9 breakfast radio show on Friday by host Heidi, Will and Woody.
Interviewing the show's runner-up and newest national treasure Nikki Gogan, Heidi said she had received a screenshot of Alex's schoolmate's Facebook status.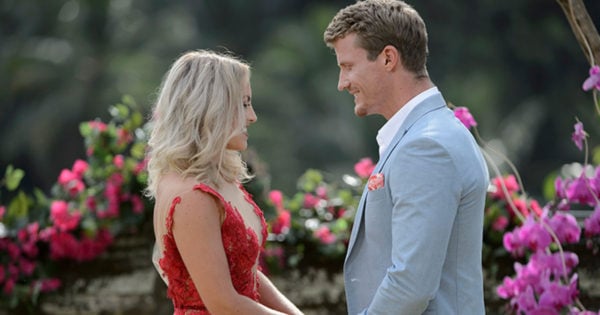 It still hurts to think about. Image via Channel 10.
Heidi claimed the status said, "I went to school with Alex. You actually find out next week or some time later that he leaves Alex for Nikki."
Within seconds of being read on air, though, Nikki was shooting the theory down.
"No. Nup. Absolutely not," Nikki said.
"They [Richie and Alex] are really are genuine and they really are crazy about each other," the 28-year-old replied, adding, "I want to be my person's first choice every time...I wouldn't want Richie to come running back; that is absolutely not what I want. I want Richie and Alex to work out."