Ahh, the 2017 Oscars.
It was a night consisting of the wrong movie title being called out as the winner of the Best Picture award, and Nicole Kidman clapping like a delighted circus seal waiting for a bucket of sardines to arrive.
And just in case you've forgotten it, please see below.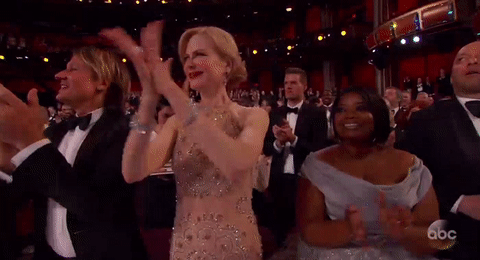 According to the 49-year-old Lion actress, her very expensive, very large Harry Winston jewels for the night were to blame.
"It was really awkward," Kidman told radio hosts Kyle and Jackie O on Thursday.
"I was like, 'I wanna clap, I don't want to not be clapping'... that'd be worse, right? Like, 'Why isn't Nicole clapping?'" she continued.
"So, therefore, I'm clapping but it was really difficult because I had a huge ring on that was not mine — but it was absolutely gorgeous — and I was terrified of damaging it."
The troubles of wearing multi-million-dollar diamonds, amirite, ladies?
Listen: MMOL think we could all do with a little bit more Jordan Horowitz in our lives. Post continues...