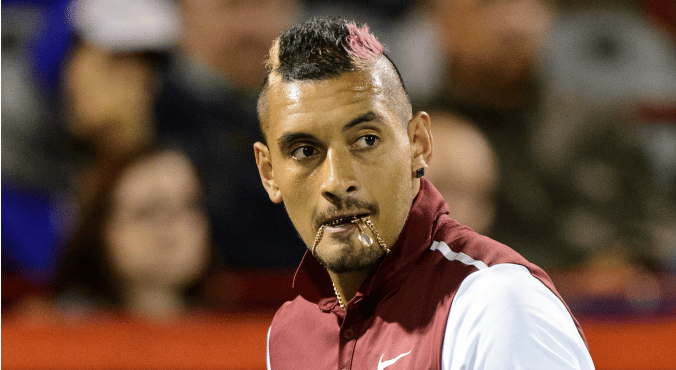 Image via Getty. 
Nick Kyrgios said something ridiculous this week. He sledged fellow tennis player Stan Wawrinka at the Montreal Masters saying that Aussie tennis player Thanasi Kokkinakis: "Banged your girlfriend, sorry to tell you that mate."
Kyrgios was referring to the Croatian player Donna Vekic, who is reportedly dating Wawrinka (who separated from his wife Ilham Vuilloud earlier this year).
Was the comment offensive? Yeah. Unbelievably stupid? You bet. Nasty about Vekic, Kokkinakis and Wawrinka? Definitely.
RELATED: She was 23 years old and a rising tennis star. Last week, she died suddenly.
Kyrgios himself doesn't really know the reason behind why he said what he did. When questioned about why he delivered the remark that scored him a $10,000 fine, he replied:
"You know, I thought ah, you know, he was getting a bit lippy at me, so I don't know, it's just in the moment sort of stuff. But yeah, I don't really know. I just said it," he said.
Now, I'm not defending what Nick Kyrgios said. At all. It was crude and it was totally out of line.
But has anyone stopped to wonder how Kyrgios, 20, is handling his newfound fame and attention?
Rather than immediately join the throngs of haters expressing their disdain for him, has anyone checked to see whether this young man is OK? (Post continues after gallery.)
Nick Kyrgios on Instagram.