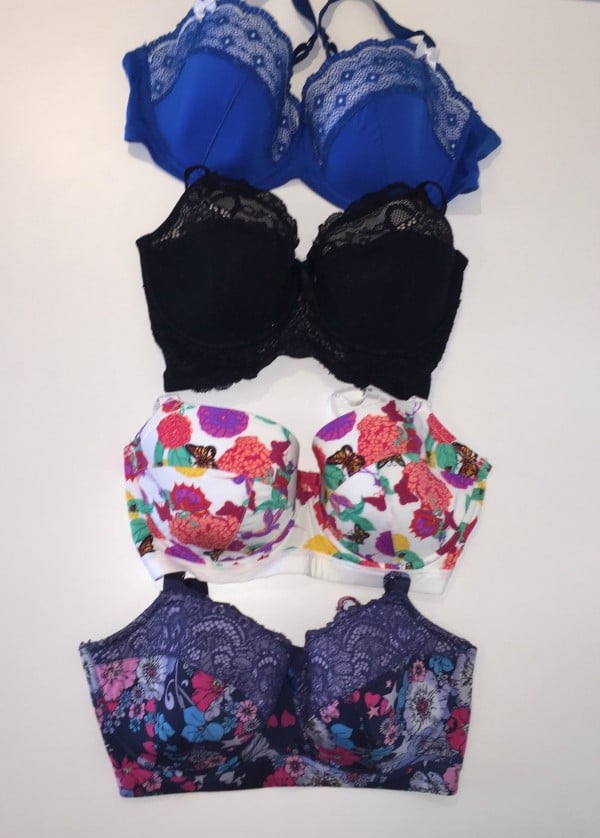 As a woman "blessed" with larger breasts, bra shopping is the absolute worst.
I can't count the number I've times I've been reduced to tears in the changing rooms after attempting to squeeze my 10Es into 15 decent-looking but ill-fitting bras that barely cover a nipple.
In these situations, I'll inevitably give up and reluctantly spend far too much money on the only bra available that actually fits. Invariably, it's a frumpy, beige (maybe white if I'm lucky) number that wouldn't look out of place in an 80-year-old's laundry basket.
Anything remotely sexy? Don't make me laugh.
My experience is not isolated. New Zealand-based comedian Charde Heremaia recently posted a video to her Facebook page ranting about the impossibility of shopping for bras for her FFs.
It's been viewed almost half a million times already, with thousands of shares and comments of people who feel the exact same. (Post continues after video.)
Well, ladies, I think I've found the solution. It turns out there is a bra brand that understands women with large boobs don't actually want to hide them in hideous flesh-coloured sacks; that we too want to feel pretty, sexy, confident and supported. Say hello to EVOLLOVE.
Around since 2012 and specifically designed for D to G cups, these bras are the furthest from dowdy. They're colourful, available in cool prints, great basics and silk and lace — and the last thing I was expecting to find a few months ago during a typical dreary underwear shop.
I wandered into the Bendon Lingerie discount factory outlet on a whim. It was the January sales and my underwear drawer desperately needed a refresh. I tried on a few bras that took my fancy in DD, which I believed was my size. It was useless.
After successfully evading any offers of help from the sales assistant, I gave in and beckoned her into the cubicle, pathetically trying to cover my modesty. She took one look at me (where on earth do they learn this skill?) and instantly identified me as an E.
"I know just the ones. Have you ever tried EVOLLOVE before?" I stared back at her blankly.