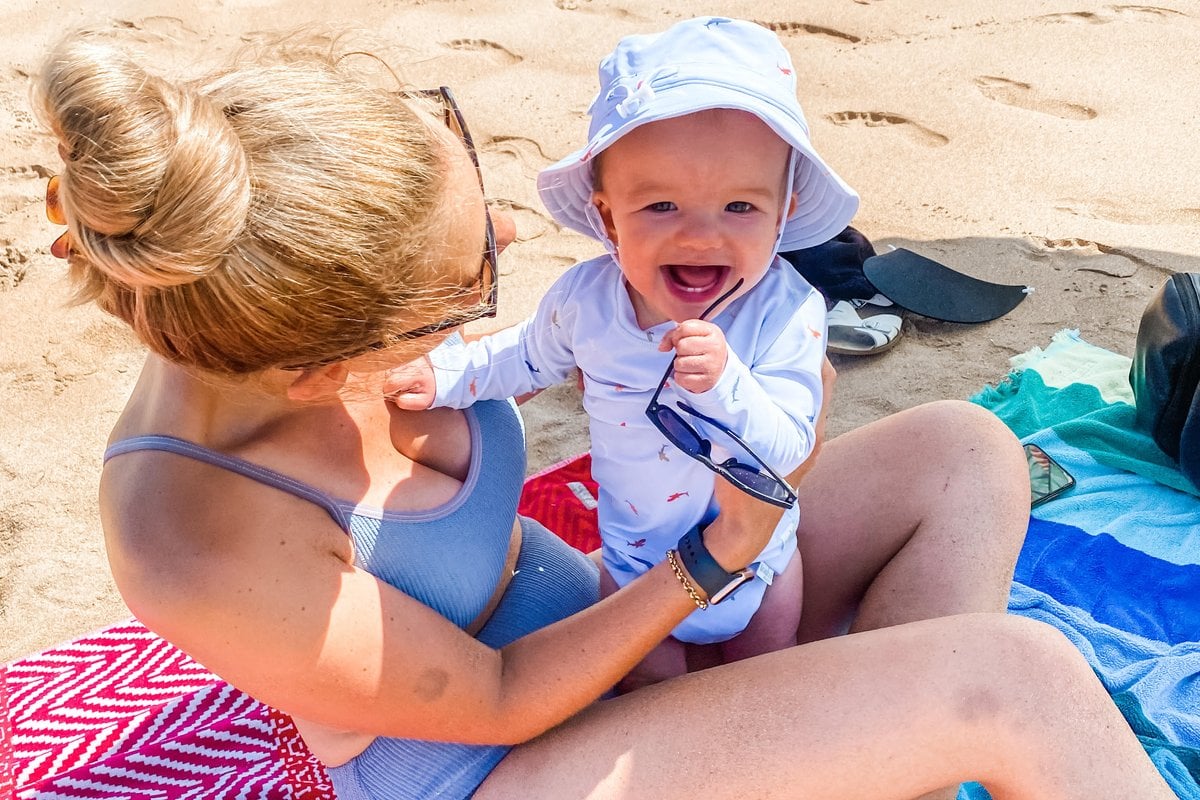 I was a month out from my due date, I was moving house, and I had a grand total of one item ticked off the dreaded 'baby-stuff' list. 
Sound familiar? 
If so, welcome, you are my people. The kind that believes if you put a task off long enough, it will eventually pack up shop and leave you be.
Watch: Your questions about childbirth, answered by mums and non-mums. Post continues below. 
I cannot overstate how overwhelming I found the baby-stuff list when I was pregnant. If you're anything like I was in my third trimester, you've gone to make the list, panicked, become engulfed by the utter enormity of the task, closed your laptop, and poured yourself a glass of (crappy, non-alcoholic) wine. 
Firstly, don't panic (like I did). I promise you will get your head around what you need and what you don't. Secondly, and this is important from a cost perspective, repeat after me: Facebook Marketplace. 
Remember that cornucopia of weaponry and survival paraphernalia in The Hunger Games? That's Facebook Marketplace, but for baby things.
We got most of our nursery furniture from there and every experience we had was a positive one. One dad even offered us a beer for the drive home after helping us strap his baby change table to our roof. 
Here's a list of what's worth the investment, and what you can afford to skimp on:
Pram (invest, but check out second hand options first).
Well hello there, if it isn't the most expensive and confounding item on your baby list! 
It's true, choosing a pram is basically like choosing a new car. And you're likely to use it even more than your trusty vehicle in your first year of parenthood. But that's not to say you must splurge for a brand-new model.
You'll find a range of second-hand prams in great shape on marketplace or eBay and if the COVID era has you worried about hygiene, there are companies that come to your house and do a professional pram clean. 
Here are some of the most important things to look for in your new wheels: 
Adjustable handle height - if you and your partner/other carers have a height difference, you'll want to be able to adjust the handle for everyone's comfort.

A big canopy – Straya, am I right? That Aussie sun finds a way to get in even when you think you're in a shady spot. Babies under 12 months shouldn't be exposed to direct sun when the UV is over 3, so a pram with good adjustable shade will give you priceless peace of mind. 

Adjustable seat with multiple positions – when you change from bassinet to baby seat, you want it to have multiple positions, the ability to face both directions and lie back to almost flat so that your baby can nap on the go. 

Underneath storage – I initially got a pram with a tiny under basket and ended up selling it. I thought I'd be fine taking everything I needed in a backpack, but I was very wrong. 
Bassinet (skimp or borrow).
This is another good one to get second hand or borrow from a friend or family member. 
You will only use it for the first six months (max) and if used with a mattress protector, it should stay in really good shape. 
We got a fantastic bassinet second hand for about 30 per cent of the cost of it brand new. 
I recommend getting a bassinet with a side that fully drops down and adjustable legs so you can line it up with the height of your bed. It makes a huge difference at 3am to be able to roll over, drop the side and grab that little angel for the 16th time without dislocating your shoulder.