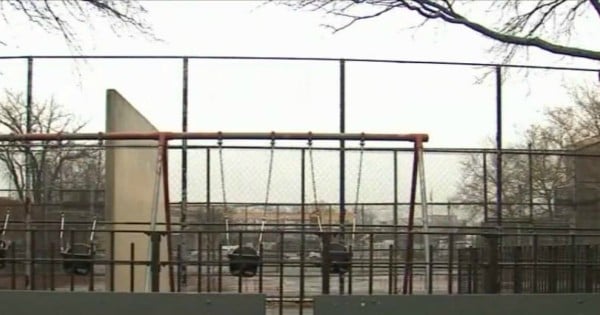 Five teenagers have been arrested for the alleged gang rape of an 18-year-old woman in a Brooklyn playground last week.
The woman had been drinking beers in Osborn Playground with her father last Thursday night when the group of teens reportedly approached them, brandishing a gun.
They allegedly chased away the young woman's father, before raping her at gunpoint.
The father, panicking, went in search of help, but was apparently so drunk, he couldn't explain what was happening to the workers he approached in two local delis.
"He was swaying side to side. He asked me, 'Lend me your phone.' I said no,'' said an employee of Zaida Deli and Grocery to the New York Post.
"He didn't tell me it was an emergency or 'I need to call the police' or of course I would've given it to him or just called the police for him."
After around 20 minutes, he managed to find to two police officers sitting in a squad car, who eventually came to the girl's aid and managed to take her statement.
Over the weekend, The New York Police Department released the following video of the suspects, before two, aged 14 and 15, were handed in by their parents.
Another three suspects, aged 15-17, have now been arrested and all have been charged with first-degree rape.
Far from being resolved however the case has taken a series of dark twists.
At least two of the suspects told authorities that the sex was consensual and all claimed that the young woman had been having sex with father.
In court on Tuesday, a defence lawyer for one of the teens also claimed to have a 10-second video filmed on a smart phone, which apparently shows the woman partially clothed on the ground, laughing and smiling, moments before the attack.