The "first kiss" is a long-standing, heartwarming and emotional tradition in the navy.
If you haven't heard of it before, a sailor who has been deployed for a long period of time can win the opportunity to be the first person to walk off the ship and kiss their partner.
And, for the first time, a male sailor walked off the boat and shared his first kiss with his boyfriend.
The Huffington Post says that "time seemed to stand still" when Master Seaman, Francis Legare, finally left his HMCS Winnipeg and kissed his partner, Corey Vantour.
Legare had been gone for exactly 255 days when he was reunited with Vantour and described the moment he finally came backas "unreal".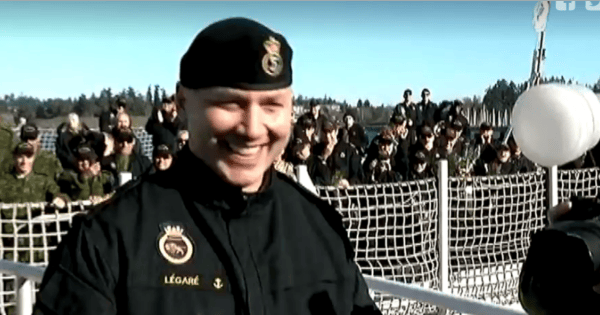 "Now I'm back. I'm here. It's just unreal, it feels great. I'm just speechless right now," Legare told the media.
A spokesperson for the Royal Canadian Navy, Kris Phillips, says this wasn't the first time a same-sex kiss had been shared, with two women winning a few years earlier.
"What we are supporting here, what we're standing behind is something that should be very representative of what you expect to find anywhere in Canadian society," Phillips said.
"The fellow [Legare] on board the ship is a sailor like every other sailor, doing his job."
Sailors can win the first-kiss simply by buying raffle tickets (one for $2 or $5 for three), and the money is donated for family events.
You can watch the beautiful video here.