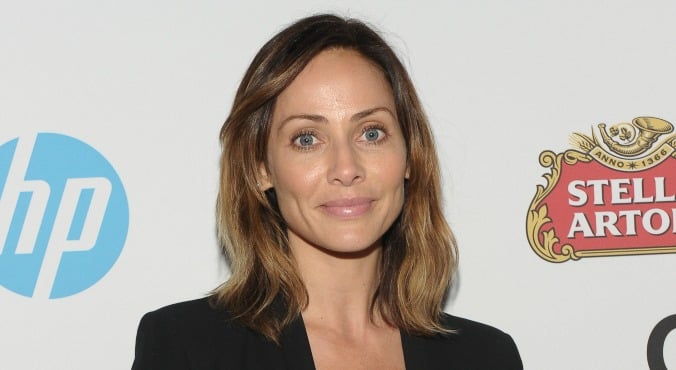 Image via Getty.
From her choppy and fantastically '90s short hair, to her raven black then peroxide blonde '20s style bob, Natalie Imbruglia has never been one to shy away from mixing up her hair.
More recently the 40 year old has been sporting best balayage, in both longer-length and shoulder-length styles.
RELATED: Natalie Bassingthwaighte has new hair, people
But her latest move may have those balayage devotees feeling a little torn.
Revealing her latest hair change on Instagram, the Aussie/British singer seemed very pleased with her new cut and colour.
"A change will do you good! #brunette," she captioned the selfie.
The side-swept short fringe has been freshly updated, as well as swapping her warm chocolate and blonde highlighted hair for a gorgeous chestnut brown.
Is anyone else picking up that ever-so-subtle auburn tone? Nice move, Imbruglia, nice move.
RELATED: We get to the bottom of every hairdresser's new obsession, Olaplex
While she's been quiet on the music front for the past few years, Imbruglia has been busy on stage and on screen, as well as launching her successful skincare range Iluka last year.
We wonder if the change has anything to do with her return to music, with her new album Male due to be released in the next few weeks. (Post continues after gallery.)
The Natalie Imbruglia hair files
While the Aussie is currently enjoying summer in the UK and Europe (having a lovely holiday with Kylie Minogue by the looks of it!), we reckon Imbruglia's hair is the perfect winter hair inspiration.
It's a great option for those wanting to go a little darker without going too dark, a more elegant alternative to the shag and works with a range of lengths and styles.
RELATED: Stuck for hair inspiration? This is the one haircut that will never be out of style
In fact, it's quite a similar colour to the one that Lily James debuted at Comic Con this week, as the actress said goodbye to her signature Cinderella blonde and welcomed a gorgeous auburn brown shade.
And while we're devoted fans of the lob, it's also nice to see a celebrity with something a little different and a little longer.
Maybe we aren't so torn after all.
What do you think of Nat's new hair?
The best celebrity hair transformations