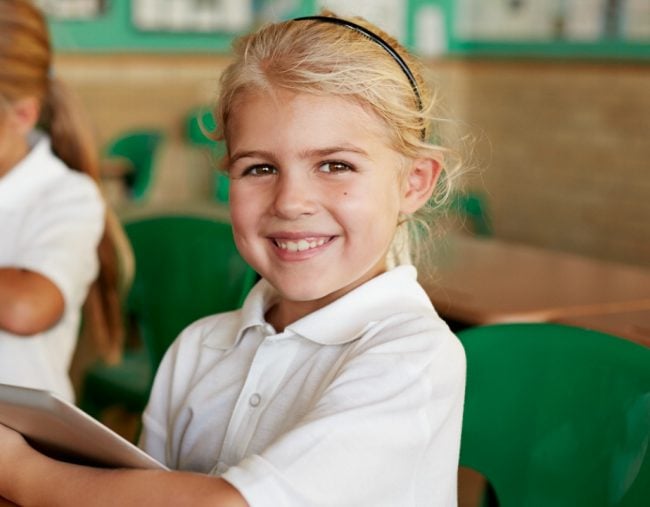 When it comes to your child's progress at school, it seems there's one factor more important than public vs private school, or big vs small school, or country vs city school.
That one factor? The state you live in.
That's the finding of a new report from the Grattan Institute, which analysed NAPLAN results from around Australia. The report looked at the progress that students in each state were making in between NAPLAN tests, taking school advantage into account. For Queensland, the news was very good. For the ACT, not so good.
Report co-author Dr Peter Goss tells Mamamia he was "a bit surprised" that the difference between states was as big as it was, "and especially that it was much bigger than the other things that we talk about more – sector or school size or location".
Here's his state-by-state breakdown.
Queensland: According to the report, primary school students in Queensland make two months more progress in reading than the national average between Year 3 and Year 5. They make one month more progress in numeracy.
Dr Goss says Queensland has been focusing a lot on building literacy and numeracy in recent years, because the state got a shock when the first NAPLAN test results came out.
"They were at the bottom of the pack. In response, they invested in building the literacy and numeracy capabilities of the teachers."
New South Wales: NSW is great at helping advantaged students to excel, particularly when it comes to high school students and numeracy. The state has a policy of identifying talented kids, grouping them together, and accelerating them, through opportunity classes and selective schools.
But Dr Goss says opportunity classes and selective schools can be "a real two-edged sword".
"If you're a kid in a disadvantaged school, one of the best things that could happen to you is to have a classmate who does really well at school and doesn't mind showing it, because they'll set a standard you can aspire to. If those kids get dragged away to an opportunity class or a selective school, then individually, they may do a bit better, but those that are left behind may do worse."
Victoria: Disadvantaged students in Victoria make more progress than those in NSW. Dr Goss says the state has focused on supporting disadvantaged students.
"They try to make sure they get them into early childhood education, they put money into lifting disadvantage. They are doing it more effectively than other places in the country, particularly more effectively than NSW. But Victoria has more recently been saying, 'How do we lift at the top end?' because a great education system manages to do both."