Friday night in suburban Melbourne, 1984 and 41-year-old Nanette Ellis was planning to go out after work with the girls from the office.
Nanette was the advertising manager of Free Press Leader, a Belgrave-based newspaper that was, and still is, part of the Leader Community Newspapers group in Melbourne. The team was a small and tight-knit group, made up of editorial and advertising, who produced the paper for the residents of villages in the region known as the Dandenongs – one of the most picturesque areas in Australia. Nanette was a hard worker and well respected and loved by her colleagues.
A strikingly beautiful woman, Nanette had been a single mum to her two sons Greg, 16, and Craig, 18 for several years. She was paying off her modest house in Manuka Drive, Boronia (an outer east suburb not far from her workplace) and had devoted herself to raising her boys. Apart from a regular aerobics class she did with a friend and a few drinks out with her workmates, Nanette lived a very quiet, modest life. Her looks were so striking that Nanette was often asked to model for advertisers and had appeared in several fashion and lifestyle photo shoots for newspaper features.
But things had been quite unsettling for Nanette in recent weeks. On four consecutive mornings her car had been pelted with rocks as she drove along Monbulk Rd on her way to work. The first time it happened on January 31, Nanette wasn't even fully aware that a rock had been thrown at her 1976 Corolla sedan but it lodged under the bonnet, piercing the radiator, which caused the engine to boil. She called Craig who met her then organised a tow truck to the service station.
Listen: Nanette's son Craig describes what happened in the weeks before her murder. 
The next day a rock was thrown at her car as she travelled to work between 8am and 9am and this time it shattered her windscreen. The rock throwing happened again the next two mornings at the same time. Was someone targeting Nanette?
What happened next left Nanette and her sons in no doubt that someone victimising their mother. Sometime on Saturday evening February 4, Nanette's car, which was parked in her driveway, was vandalised. Paint – a water-based fawn colour – was tipped over the roof, cascading down the boot bonnet and driver's door.
Nanette discovered the damage at around midnight. It was frightening for this hardworking suburban mother whom son Craig said "didn't have an enemy in the world". Was it kids making mischief by vandalising cars? (There had been a few reports of car vandalism in the neighbourhood that weekend.) Or was it someone who had more sinister motives?
Then, unbelievably, Nanette's car was targeted again. On Monday evening, February 6, someone slashed the car tires, ripped off a number plate and aerial and bent back the windscreen wipers. The police patrolled Nanette's neighbourhood and escorted Nanette to work and back home for the next few days.
The vandalism stopped. Nanette's boys were keeping an eye out too. On the Friday, It February 10, a police car escorted her from work until she was clear of Burwood Hwy – the main arterial between the office and her home.
Nanette arrived home at 5.15pm from work to get ready to go out with her girlfriends from the office. She was being picked up at 6pm and that morning, she had laid out her clothes for the evening – a red shirt and black pants.
Craig had been home during the day restoring and old Holden he had been working on for ages (he was on holidays from his job as a chef at a nearby reception centre). Nanette had called him that day to check-in and Craig asked her if everything was ok.
"She told me she thought everything was fine now," Craig Ellis said.
He had planned to go to the drive-in with some friends and left the house around 4.30pm. His brother Greg had come home from school a bit earlier and then jumped the back fence to spend time with his friend, who was a neighbour.
Greg Ellis arrived home, using the front door, just after 6pm. He remembered the time well because he'd finished watching the TV show Perfect Match at his friend's house before heading home and that show finished at 6pm.
"Mum, mum, I'm home," Greg called.
The radio was on and Greg noticed the Valentine's Day cards on the table that his mum had got for him. Greg had recently been on a student exchange to Japan and wanted to send cards to his new friends. Valentine's Day was a big thing in Japan for friends to exchange cards.
As he walked through the house looking for his mum, Greg noticed blood – a lot of blood – and clumps of blonde hair in the hallway.
Greg found his mother on the concrete ramp at the end of the house, just off the laundry. Nanette was dead, having been the victim of a frenzied knife attack. The brutal murder took place sometime between 5.15pm and 6pm when Greg came home. Just 45 minutes…someone must have been watching Nanette.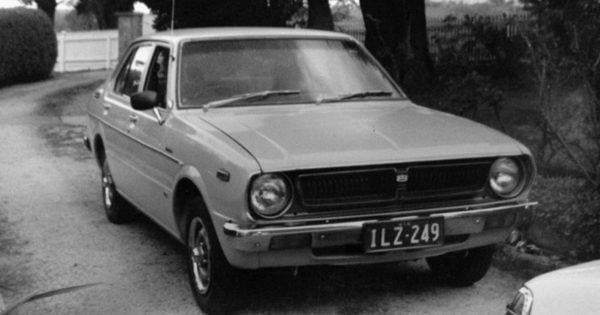 To date, Nanette's shockingly brutal murder is still unsolved but police reinvestigating the case – and her family – are more hopeful than ever before that her killer will be caught.
Nanette's murder devastated her family and her colleagues at Free Press Leader, who knew of the intimidation that she had been subject to in the week before her death. Colleagues at the Knox Sherbrooke News, the newspaper that covered the Boronia area, wrote a heartfelt front-page tribute to their friend "We won't forget Nanette".
"Nanette Ellis had class and always kept her problems to herself. That's why no one other than her mates at the Free Press really knew the terror she suffered in her last days of life."
Police made a public plea at the time for anyone who was in the Monbulk Rd, Tecoma area near Morris Rd and Wattle Ave to think about their movements between 8am and 9am on January 31, and February 1-3 when she was targeted by the rock throwing incidents. (The details about the vandalism to her car – the paint throwing and slashed tires - were initially kept back from the public.)
Police also canvassed the streets around her home hoping to find information on any suspicious activity people had seen on the day of the killing.
Victoria Police homicide Detective Sen-Constable Kyle Simpson is the officer in charge of the cold case re-investigation. Den-Constable Simpson said the re-investigation into Nanette's murder began in October 2010 as a result of the Homicide Squad's review of unsolved cases dating back to the 1950s.
"Investigators have been working with the family and friends of Nanette in an attempt to piece together what led to her being stabbed to death shortly after arriving at her home in Manuka Drive, Boronia on February 10, 1984," Sen-Constable Simpson said in 2011 for an article the author wrote for Knox Leader.
"Despite an intensive initial investigation and a subsequent coronial inquiry, no person has been charged, although with advances in technology and people's life circumstances changing we are confident that the person responsible for the murder will be brought to justice," he said.
A 1985 coroner's inquest into the murder delivered an open finding but found that Nanette had died from a haemorrhage caused by stab wounds.
Sen-Constable Simpson said the serial rapist and killer Peter Dupas has been ruled out as a suspect. Police had a look at Dupas for Nanette's murder because of the way she was killed. Dupas is serving three life sentences with no possibility of parole for the murders of three women - Nicole Patterson, Margaret Maher and Mersina Halvagis. Dupas killed these women in separate incidents. He is also the prime suspect in the unsolved murders of two other women.
I met Craig Ellis in August 2012 at his apartment in inner city Melbourne. I had been corresponding with the family and the investigating detective Kyle Simpson since 2010. Nanette's case was one that intrigued me because we worked for the same company, albeit more than 20 years apart. I felt particular desire to know more and report on her case because I live in the city of Knox (the council area where Boronia is located) and by 2012 was the reporter for Free Press Leader, the paper that Nanette was advertising the manager for at the time of her murder.
Craig, 48, has not spoken publically about his mother's murder for over 25 years. He was interviewed a few time when there were renewed public appeals – in 1985 there was $50,000 reward offered for information and in 1987 the case was featured on the Channel 7 program Australia's Most Wanted.
"I've had advice that maybe it's time to not be so secretive about it," Craig said.
"Talking about what happened to mum is something that is not easy for me to do. As a young person you can block it out to a certain extent because you are full of energy and you have news things going on in your life but there's always that pain there. I always felt it (Nanette's murder) was real affliction on me, or a handicap, that it had happened to me. I used to be treated a bit differently because of what happened. Now there are only a few friends who know what happened to my mother."
He remembers his mother as a truly lovely woman and mother.
"Nanette, even though she was very attractive, was very modest and not pretentious," Craig Ellis recalled.
Nanette was a big supporter of Amnesty international and wrote letters to help have people freed who were in jail in other countries for petty crime. (Craig recalled that there was an Amnesty International sticker on the left hand rear side of the rear window of her car.) Nanette was also very creative and loved art and to paint and sketch.
Craig said he had been tormented for years over thoughts that he could have saved his mother.
"I nearly came back home that afternoon because I smoked at the time and I'd forgotten my cigarettes. I had a carton at home but I thought "I'll get a pack at the milk bar"," Craig said.
"I nearly came back… and it would have meant it would have been in that time frame of when she was killed. So, whether I came back and it would have delayed the killer or, I could have been killed myself. I just think if there were two of us one would have survived to tell the story."
Craig said his mother fought with all her might against the killer.
"She absolutely put up a big fight. Mum really did fight hard to defend herself. Apparently she'd fallen in the hallway and then the murderer had stabbed her while she was down. She still had the strength to drag herself up again and get out through the laundry.
"We were told mum had suffered an irrecoverable stab wound to the neck, which severed or pierced the carotid artery. That was quite distressing to learn. She still got outside the house. Had she not sustained that would to the carotid artery she could have survived."
Craig has often wondered if he knows the killer. Will he be shocked when he finds out who murdered his mum? The brothers (Greg has lived in Japan for many years with his family) are more hopeful than ever that the killer will be brought to justice. They have faith and trust in the determined and thorough investigation by Sen-Constable Simpson.
"I've wracked my brain for years over who could have done this," Craig said.
"It wasn't a robbery or a sexually motivated crime. Mum was targeted. I am open-minded about the rock throwing incidents but the vandalism to the car was definitely personal.
"I am angry with the person who did it. I want to see justice and I want to see some sort of compensation to our family for what we have suffered. Whatever that is we will pursue it. It's been such a huge thing to carry all these years," Craig said.
Craig has two young adult daughters and said he feels the loss of his mother more intensely than ever before.
"As I get older the enormity and horrendous nature of what happened to my mother has really hits home because I imagine what it would be like for my daughters to lose me now and think how lucky they are to have both their parents."
"Everyone in the family has been affected - they've not had a grandmother, we've not had a mother. There have been a lot of people affected. My late grandmother for instance, Nanette's mother Mavis, had to carry that for 28 years until her death and never found out what happened to her daughter."
Five years after their mother died, the boys found out they had a sister. Their grandmother told them in 1989 that Nanette had a baby when she was 18 and the little girl was adopted.
Janet O'Donnell is that girl. Though she always knew she was adopted, Janet's relationship with her adoptive family was difficult. She grew up only a few suburbs away from Nanette, who unbeknown to her was raising her own family with her husband Max Ellis. (Max died in 2013. He was officially eliminated as a suspect in the immediate investigation after his ex-wife's murder.)
"The stories of why and where I was from were never discussed. But I always had a very difficult time in this family, so I was always an angry child that was frustrated I was never told about my biological family," Janet said.
Janet said Craig tracked her down in 1989, not long after he first discovered her existence.
"The cruel part was that I was 28 then and was estranged from my adopted family. If they had told me about Nanette, I would have had a chance to meet her as I only grew up a few suburbs away."
"So, the fact that I finally connected with Craig and Greg, and then found out about he horrific murder, I felt that once again I was cheated, and so was Nanette."
Craig said the family needed their day in court.
It would make such a difference to me, even to find out what the motive for her killing was," Craig said.
"Nanette was a good mum and we feel her loss so much."
In 2014 on the 30th anniversary of Nanette's murder, Victoria Police offered a $500,000 reward for information that could solve the murder.
This is an extract from MURDER IN SUBURBIA by Emily Webb (Echo, 2014), available here. 
Anyone with information on the murder of Nanette Ellis should contact Crime Stoppers on 1800 333 000 or crimestoppers.com.au
Emily Webb is the co-host of Australian True Crime with Meshel Laurie and Emily Webb. Listen to the full episode here: 
Subscribe to the show at iBooks at apple.co/mamamia.