Of the great, important debates consuming public airtime – you know, like climate change – comes another: Can you actually match the nail polish on your fingernails to the nail polish on your toenails?
That was the question facing the Mamamia Out Loud team this week who vehemently disagreed on the rules that exist regarding the matching of nail polish on feet and hands.
According to Mamamia Out Loud's host Holly Wainwright, sorry, but you should absolutely never be matching your toes to your finger nails.
Listen to Holly, Jessie and Rachel discuss the beauty dilemma below. Post continues after audio.

"I need to make this clear, we don't really talk about beauty issues much on Mamamia Out Loud because none of us really give a stuff… but you can't have the same colour nail polish on your fingernails and toes," she said on the podcast this week.
"A girl's got to draw some lines..I do like a fashion rule… [and] I've been living by this rule for a long time.
"It is considered "tacky", although further research may suggest that view might be a little outdated."
Her co-hosts Jessie Stephens and Rachel Corbett weren't as enthusiastic about this apparent 'rule', though. After all, who has time, energy or the creativity to pick more than a single colour?
It appears the internet are as conflicted as our hosts.
For example, according to The Telegraph, our nails shouldn't match per se, but they also shouldn't clash. Joy.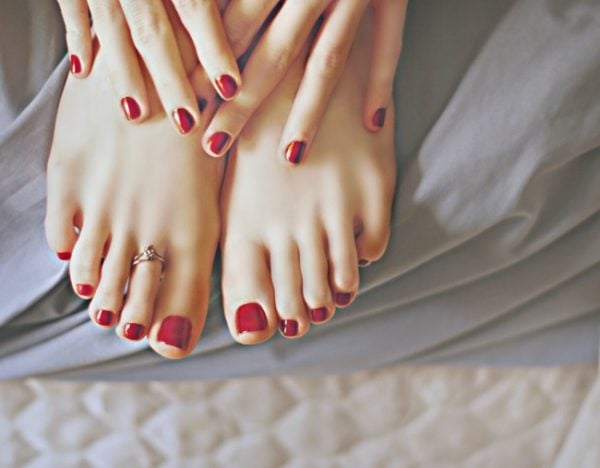 "There should definitely be some sort of interplay between the two, but this doesn't mean they need to be the same colour - just from the same family of shades," beauty editor Sonia Haria wrote last year.
Kimmie Kyees, who counts Rihanna, Katy Perry and Kate Mara among her clients, told Vogue India she too felt the idea was a little outdated.
"To match your fingernails and toes used to be a must back in the day and some women still follow that guideline," she says. "But in today's day and age, when colour choices have become so abundant, women like to go a little crazy and have fun mixing and matching." She adds that Rihanna "will wear white toes with just about any other colour on her hands".
Sitting firmly on the other side of the fence is, Ji Baek, owner of Rescue Beauty Lounge in New York City, who told Oprah.com matching is a must.
"I think matching polish makes you look more pulled-together," she said.
Naomi Yasuda, another celebrity manicurist, concurs, telling Vogue India:
"It is classic and never goes out of style, as opposed to a short lived trend," Yasuda says. To make it more modern, "do something more intricate on your fingers, like incorporating a nail art design, but keep the base coat the same on your toes. This way, they still match but there is another layer of design or texture on your fingers."
We're glad the internet decisively cleared that up. Not.
The big issues, eh?
What do you think? Can you match your fingernails and toes?
Listen to the full episode of Mamamia Out Loud below.