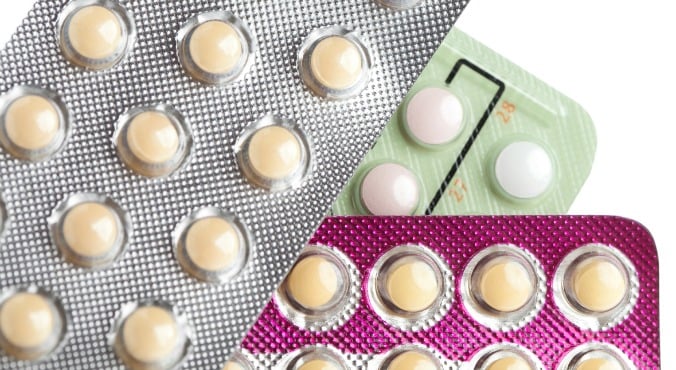 Image: iStock
Most women will use some form of birth control in their lifetime. Here in Australia, two thirds of women of reproductive age are using a method of contraception, in most cases the Pill.
Yet, despite how everyday it is, we hear some seriously mixed reports about birth control and its side effects.
We asked the women in our office what 'truths' they've been told about the Pill, IUDs, emergency contraception and others over the years. You've probably heard most of these in your time, too, from your mum, your sister or just in general watercooler chat.
Then we took these stories to three health experts — Dr Deborah Bateson, Medical Director of Family Planning NSW; Professor Jayne Lucke, Director of the Australian Research Centre in Sex, Health and Society; and Dr Kathleen McNamee, Medical Director of Family Planning Victoria — to help us sort the facts from the total bollocks.
"You should change your Pill every couple of years, otherwise your body gets used to it and it becomes less effective."
Verdict: Myth
"There's absolutely no evidence that the Pill becomes less effective the longer you take it," says Dr Bateson. "We also know it is common for younger and older women sometimes to come in and say, 'I needed a Pill holiday' – what we know is that that actually increases the risk of an unintended pregnancy. There's no reason whatsoever to have a break."
That doesn't mean you should stick to just one Pill, or one type of birth control – it's always worth discussing the range of available options with a doctor. Similarly, finding the best Pill for you doesn't always happen straight away. Dr Bateson says it's worth talking to a doctor about changing to another Pill if your current one gives you side effects you're uncomfortable or unhappy with.
"I'm on the Pill. That's me sorted for life."
Verdict: Myth. Even if the Pill is working well for you, it's often worth exploring other options as your needs could evolve over time.
"There are a number of different long-acting reversible methods (like the implant or IUD) that might suit you better, be more cost effective, or simply be less hassle," Professor Lucke says. "Women often find that they need to review their contraceptive needs at certain times, like when they have a new partner, after having a baby, or when they have decided that they don't want to have any more children."
Here are some different options to consider [post continues after gallery]
Popular forms of birth control
"IUDs aren't a good option for young women who don't have kids."
Verdict: A big, fat myth. IUDs are increasingly popular among this demographic, and they're commonly recommended by doctors.
"We've noticed a really interesting change here – seven or eight years ago we hardly ever did them in young women who hadn't had children, but now most of our clients are young women who haven't had children. I would say it's at least 60 per cent of the women we see," Dr McNamee says.
"We think they're a really good option for young women because they're very effective. You can have a hormonal one, and that's got the benefit of giving you a really light period or no period at all. Or you can have a copper one and that doesn't have any hormones – it's the really the only reliable, reversible method and there's no hormones."
It doesn't really matter how you store your birth control, right?
Verdict: It's not a huge drama, but it's worth giving it some thought – use your common sense and read the packages.
"For most Pills there is some guidance on the packaging that it shouldn't go above about 25 degrees. Generally, as long as you're keeping your Pill in a cool-ish place in the cupboard or bedside drawer, there's no problems, and certainly, when we're transporting contraceptives we need to make sure they don't go above certain temperatures," says Dr Bateson. She also advises keeping the Pill in a visible location so you don't forget to take it.